Cinema Under the Stars
As the historic urban space of Toruń constitutes an unforgettable experience in itself, weshall let you have a taste of it during this year's edition of the festival. Once again, we aregoing to meet in the yard of the Old Town City Hall in Toruń where you will have a chance to watch five films we have selected for that particular scenery: More »
Castle Cinema
Let us take you back to the 1980s, amidst the unique scenery of the ruins of the Teutonic Castle, when some of the legendary horror films, now considered 'cult classics' were made. Although many of them were remade – some even saw many sequels made to continue the original idea – our intention is to show you the archetypes of the characters that have forever gone down in the history of this particular genre. The genre that is adored by so many devoted cinema goers. More »
Must See Must Be
The section Must See Must Bee is a summary of the films screened during the most important film festivals around the world which even the most knowledgeable film enthusiasts might have missed, when making an effort to digest the plethora of new film productions. More »
Swimming Pool, The
Basen · dir. Krzysztof Nowicki
Poland 2010, 11'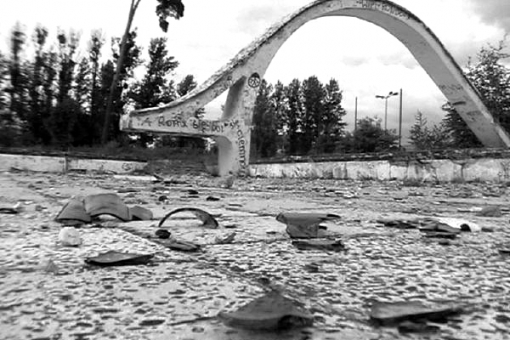 The story of closed swimming pool at Nakielska Street in Bydgoszcz. Nowadays it is a dispirited, overgrown ruin. However, the director found the second face of this place — seen through memories of inhabitants of Bydgoszcz, who had been relaxing for years here. For them this ruined swimming pool is a piece of their adolescence and  reminiscence of happy moments.
| | |
| --- | --- |
| Director: | Krzysztof Nowicki |
The team of young documentaries directors from Bydgoszcz — Darek Gackowski, Krzysztof Nowicki and Monika Paprzycka — seems as The Trinity, but is it true? Undeniably, they are great in independent cinema popularizating. Dariusz Gackowski is a photographer; as an independent artist he tries to make documentaries. His latest Marek — shown at many Polish festivals — tells the difficulties of blind person's daily life. Krzysztof Nowicki is an author, known for frequent visitors of independent festivals because of Reggae Is My Life in 2008 — an unique documentary about reggae subculture in Ostróda.
Beyond the cinema and wide distribution of multiplexes, the independent film art is being propagated with emotion and passion – this is what members of 'Koloroffon' say about their art.