Must See Must Be
The section Must See Must Bee is a summary of the films screened during the most important film festivals around the world which even the most knowledgeable film enthusiasts might have missed, when making an effort to digest the plethora of new film productions. More »
Polonica
Polish artists are crossing the boundaries — both metaphorically, and literally. When working abroad, their contribute their unique style, talent, and personality, to international cinema. The section POLONICA is designed to present the most interesting films made by or with the participation of Polish male and female artists. More »
Tim Burton's Peculiar Five
Peculiar, unconventional, unique, unlike any other artist in the world — you cannot confuse him with anybody else. The world of Tim Burton is one of immense and absolutely unique imagination, filled with various colours, and abundant in astonishing sounds and characters. This is a cinema you cannot tame or stop. Beautiful, lively, and absorbing. More »
Zero
Zero · dir. Paweł Borowski
Poland 2009, 110'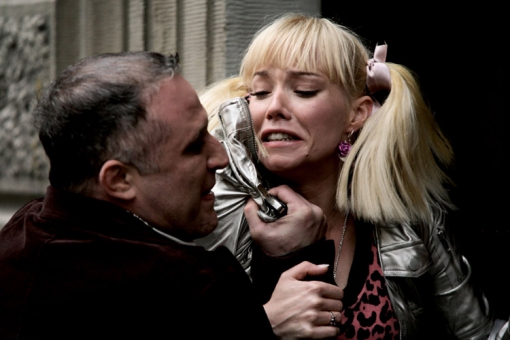 Trailer
It's early morning in a huge metropolis. At the top floor of a tall modern building, in a big office of a multinational corporation's boss the phone rings. For a moment the businessman stares at his mobile, then takes the call. It's a scruffy fatso, who's driving his banger van with a strange companion at his side. The fatso asks about the decision.  It's about tailing someone. The businessman hesitates for a while, only to confirm the order. He has no idea that his 'yes' will trigger an avalanche of events which will concern a good many citizens of the metropolis. This is the start of a multi-layered story of numerous characters whose fates entwine and whose every single decision will have unintended consequences for the others. Zero is the story of love and hate, of sex and violence, of the betraying and the betrayed, and of the unexpected mysteries which will be unravelled during these intriguing 24 hours. Once set in motion, the machine will change the lives of the characters for ever. But is it really for ever?
| | |
| --- | --- |
| Director: | Paweł Borowski |
| Screenplay: | Paweł Borowski |
| Music: | Adam Burzyński |
| Cinematography: | Arkadiusz Tomiak |
| Editing: | Magda Mikołajczyk |
| Cast: | Robert Więckiewicz, Bogdan Koca, Zbigniew Konopka, Andrzej Mastalerz, Cezary Kosiński, Marian Dziędziel, Agnieszka Podsiadlik |
Paweł Borowski was born in 1973. He graduated summa cum laude from the Academy of Fine Arts in Warsaw in 1997 (he got two degrees: in painting and in animation). He had a few individual exhibitions (e.g. at the Centre for Contemporary Art in Warsaw and at Zachęta National Gallery of Art), then made a number of short films, including Love gamestation and Kocham Cię (I Love You).
Filmography
2001: Love gamestation
2003: Kocham Cię / I Love You
2009: Zero