Forest, The
Las · dir. Piotr Dumała
Poland 2009, 75'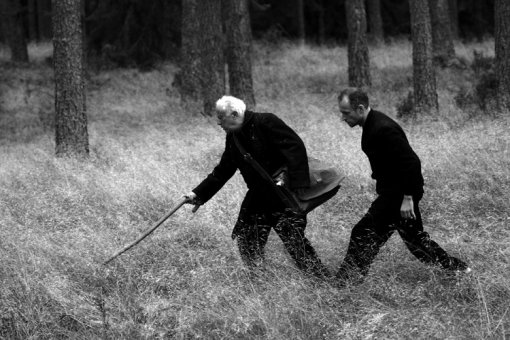 The plot of the film takes place in two time spaces. An old man leads his son through the forest and simultaneously lies under his care, being bedridden by lethal disease. The film tries to illustrate the borderline between life and death. It examines a difficult agreement of father and son. The title forest, inspired by unusual dream, is a metaphor for all people's fates. The point of these two stories is a relationship of an old man and a middle-aged one. This is an interdependence in which appear problems of domination, cooperation, love, offering and death. The story of men in the forest refers to the biblical thread of Abraham and Isaac. Ill father and his son's story is stern and nearly naturalistic. Both threads happen simultaneously, but as if they were coming in other directions.
| | |
| --- | --- |
| Director: | Piotr Dumała |
| Screenplay: | Piotr Dumała |
| Music: | Paweł Szymański |
| Cinematography: | Adam Sikora |
| Editing: | Katarzyna Maciejko-Kowalczyk, Beata Liszewska |
| Cast: | Stanisław Brudny, Mariusz Bonaszewski |
| Awards: | Złote Lwy / Golden Lions – Nagroda Specjalna Jury Najlepszy Film / Special Jury Award – Best Film (FPFF Gdynia 2009) |
Piotr Dumała — director and screenwriter of animated movies, feature film set designer, writer, born in 1956 in Warsaw. Dumała studied art conservation (specializing in stone sculpture) as well as, for two years, animation at the Graphic Art Faculty under the well-known animated film director Daniel Szczechura, both at the Warsaw Academy of Fine Arts. Presently Dumała teaches animation at the Łódź Film, Television and Theatre School.