New Finnish Cinema
A breath of fresh air with a tint of a sense of humour far from being trivial, mixed with a bit of sadness and grotesque: these are the ingredients that define Finnish Cinema and make it unique. This is a fitting description for both old classics and latest productions that come from Finland. More »
Must See Must Be
The section Must See Must Bee is a summary of the films screened during the most important film festivals around the world which even the most knowledgeable film enthusiasts might have missed, when making an effort to digest the plethora of new film productions. More »
My Flesh, My Blood
Moja krew · dir. Marcin Wrona
Poland, The Netherlands, Switzerland 2009, 91'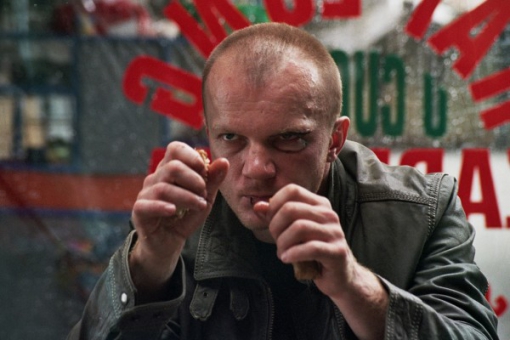 Trailer
Igor (Eryk Lubos), a boxer, gets seriously injured during one of his fights and has to give up his career. After several unsuccessful relationships with women he starts thinking about leaving 'something' after him — a child. That is why he needs an accidentally met at the marketplace Vietnamese (Luu De Ly), who agrees to give birth to his child in exchange for Polish citizenship. Though difficult at the beginning, this meeting of people of different cultures will change everything in their lives...
| | |
| --- | --- |
| Director: | Marcin Wrona |
| Screenplay: | Grażyna Trela, Marcin Wrona, Marek Pruchniewski |
| Music: | Marcin Macuk |
| Cinematography: | Paweł Flis |
| Editing: | Jarosław Kamiński |
| Cast: | Eryk Lubos, Luu de Ly, Wojciech Zieliński, Joanna Pokojska, Marek Piotrowski, Krzysztof Kolberger |
| Awards: | Nagroda im. Zbyszka Cybulskiego dla Eryka Lubosa / Zbyszek Cybulski Award for Eryk Lubos (2009) |
Marcin Wrona — film, television and theatre director. He graduated from film studies at the Jagiellonian University and film directing at the Radio and Television Department of Silesian University in Katowice. He also finished Andrzej Wajda Master School of Film Directing and Binger Film Institute in Amsterdam. He realized several plays for the TV theatre.