Must See Must Be
The section Must See Must Bee is a summary of the films screened during the most important film festivals around the world which even the most knowledgeable film enthusiasts might have missed, when making an effort to digest the plethora of new film productions. More »
Polonica
Polish artists are crossing the boundaries — both metaphorically, and literally. When working abroad, their contribute their unique style, talent, and personality, to international cinema. The section POLONICA is designed to present the most interesting films made by or with the participation of Polish male and female artists. More »
Tim Burton's Peculiar Five
Peculiar, unconventional, unique, unlike any other artist in the world — you cannot confuse him with anybody else. The world of Tim Burton is one of immense and absolutely unique imagination, filled with various colours, and abundant in astonishing sounds and characters. This is a cinema you cannot tame or stop. Beautiful, lively, and absorbing. More »
All that I Love
Wszystko, co kocham · dir. Jacek Borcuch
Poland 2009, 95'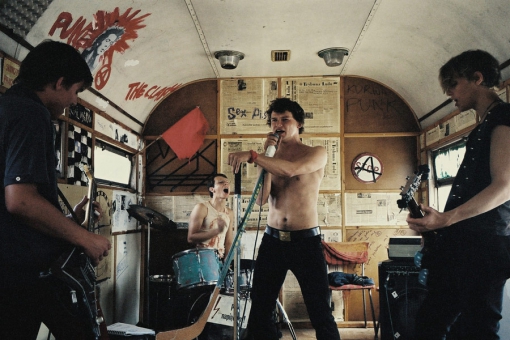 Trailer
All That I Love – is the story of a boy, his family and friends set in the early 1980s. We see the world through Janek's eyes, an eighteen year-old sensitive boy living in a seaside town who is in love with Basia. He can't live with the fact that their love is prohibited. The conflict between Janek's and Olga's families will make their feelings more difficult…
The Big History – manifestations, strikes, imposing of martial law – passes in the background, while in the foreground there is a passion for life, joy of youth, music, sex, and the first passionate love: Everything that is most beautiful. The clash of idealistic world of youth with the though one of adults appears. Janek will find out that there is no escape from the adult world. He has to face it all, fight for the girl, family and his future.
| | |
| --- | --- |
| Director: | Jacek Borcuch |
| Screenplay: | Jacek Borcuch |
| Music: | Daniel Bloom |
| Cinematography: | Michał Englert |
| Editing: | Agnieszka Glińska, Krzysztof Szpetmański |
| Cast: | Mateusz Kościukiewicz, Olga Frycz, Jakub Gierszał, Igor Obłoza, Mateusz Banasiuk, Andrzej Chyra, Katarzyna Herman |
| Awards: | Najlepszy Film Zagraniczny – nominacja / Best Foreign Film – nomination (Sundance 2010); Złote Lwy / Golden Lions – Najlepsza Scenografia / Best Scenography, Nagroda Specjalna / Special Prize (FPFF Gdynia 2010); Orzeł Hollywodzki / Hollywood Eagle Award (2010) |
Jacek Borcuch was born in 1970 in Kwidzyn, Poland. Graduated from the Philosophy Dept. at the Warsaw University, the Baduszkowa\'s Vocal and Actors Studio at the Music Theatre in Gdynia, Academy for the Dramatic Arts in Warsaw, and the Music School (piano). He is director, screenwriter and actor. Author of the first Polish independent film Caulliflowerr (1999).
Filmography:
1999: Kallaffior / Caulliflowerr
2004: Tulipany / Tulips
2006: Mrok (serial TVP1) / The Dark (TV series)
2009: Wszystko, co kocham / All  That I love