Must See Must Be
The section Must See Must Bee is a summary of the films screened during the most important film festivals around the world which even the most knowledgeable film enthusiasts might have missed, when making an effort to digest the plethora of new film productions. More »
Polonica
Polish artists are crossing the boundaries — both metaphorically, and literally. When working abroad, their contribute their unique style, talent, and personality, to international cinema. The section POLONICA is designed to present the most interesting films made by or with the participation of Polish male and female artists. More »
Tim Burton's Peculiar Five
Peculiar, unconventional, unique, unlike any other artist in the world — you cannot confuse him with anybody else. The world of Tim Burton is one of immense and absolutely unique imagination, filled with various colours, and abundant in astonishing sounds and characters. This is a cinema you cannot tame or stop. Beautiful, lively, and absorbing. More »
Różyczka
Różyczka · dir. Jan Kidawa-Błoński
Poland 2010, 117'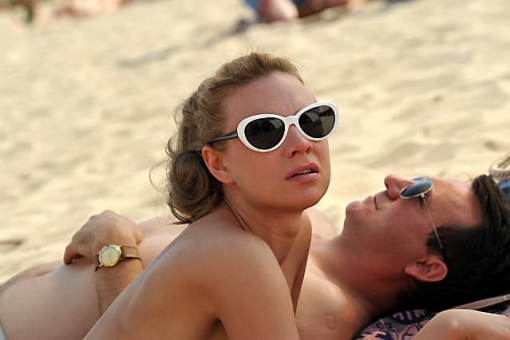 Trailer
Dangerous emotional game between a respected writer, his beautiful young wife and her lover, set in the turbulent 60's. A renowned writer (Andrzej Seweryn) has an affair with a much younger beautiful woman (Magdalena Boczarska). Despite social indignation caused by a large age difference, different education and status, the intellectual marries the attractive 'girl from nowhere'. Blinded by his feelings, he does not suspect that their controversial relationship may not be a coincidence. He does not know that his partner has been secretly seeing another man (Robert Więckiewicz), with whom she shares not only a strong passion, but also a dangerous intrigue. Engaged in an immoral relationship with an agent, she gives him information to meant to discredit the writer. Her erotic fascination with the lover gradually turns into deeper feelings; the young woman realizes though, that she is only a tool in an organized action of the secret service.
| | |
| --- | --- |
| Director: | Jan Kidawa-Błoński |
| Screenplay: | Maciej Karpiński, Jan Kidawa-Błoński |
| Music: | Michał Lorenc |
| Cinematography: | Piotr Wojtowicz |
| Editing: | Cezary Grzesiuk |
| Cast: | Magdalena Boczarska, Andrzej Seweryn, Robert Więckiewicz, Grażyna Szapołowska, Jan Frycz, Krzysztof Globisz |
| Awards: | Złote Lwy – Najlepszy Film / Golden Lions – Best Film (FPFF Gdynia 2010) |
Jan Kidawa-Błoński was born in 1953 in Chorzów. Director, screenwriter, producer, also an actor. In 1972-1976 he studied at the Faculty of Architecture of Silesian University of Technology in Gliwice. He graduated from the Film Directing Department at the Łódz Film School. As a director, he debuted in 1981. From 1990 to 1994 he was the chairman of Polish Filmmakers Association, in 1997-2001 —  the member of the board of the Independent Film and TV Producers Association. He is also the author of many TV programmes.
Filmography(selected)
1984: Trzy stopy nad ziemią / Three Feet Above the Ground
1992: Pamiętnik znaleziony w garbie / Diary Found in the Hunched Back
1996: Wirus / Virus
2005: Skazany na bluesa / Destined for Blues
2010: Różyczka / Rosebud