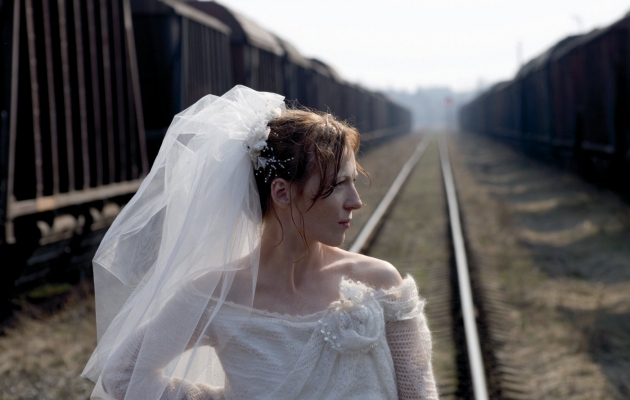 Screenings
10/26, 11:00 · Od Nowa – new hall
Natalia lives at the train station, near the tracks. Every day, she milks the cow and her husband sells the milk to passengers on the trains that go through the station. Her husband took Natalia from a children's home, when she was 16. Since then, her life has been circling around the house, pigsty, and trains, which pass near her curtainless window, going to some unknown, entirely different world... Natalia does not love her husband, but she is incapable of imagining her life without him. This continues, until the husband dies of a heart attack. The woman must learn to live all by herself. Her house is now full of music and she has a dog Koshchey, a goat Berta, a mirror, and a driver — Sergei. However, Natalia does not want to lose her newly regained freedom and sets on a journey...
| | |
| --- | --- |
| Director: | Vera Storozheva |
| Screenplay: | Arkadi Krasilshchikov |
| Music: | Ilya Shipilov |
| Cinematography: | Oleg Lukichev |
| Cast: | Xenia Kutepova, Dmitri Dyuzhev, Yevgeny Knyazev |
| Awards: | Festiwal Filmów Rosyjskich Sputnik / Sputnik Russian Film Festival – Nagroda Publiczności / Audience Award (2008); Cottbus Film Festival – Nagroda Jury, Nagroda Don Kichota, Nagroda FIPRESCI / Jury Prize, Don Quijote Award, FIPRESCI Award (2007) |
Vera Storozheva was born in 1958, in Troitsk. She is an actress and director. In 1983, she completed studies at the Moscow State Institute of Culture, and also from screenwriting and directing at the workshop of Alexander Naumovich Mitta, in 1993. She is mostly widely recognised for Travelling with Pets.
Filmography:
2012 – Moy paren — Angel
2010 – Moskwo, kocham Cię! / Moskva, ya lyublyu tebya!
2009 – Niedługo wiosna / Skoro vesna
2007 – Podróż ze zwierzętami domowymi / Travelling with Pets
2002 – Niebo. Samolot. Dziewczyna / Sky. Plane. Girl.