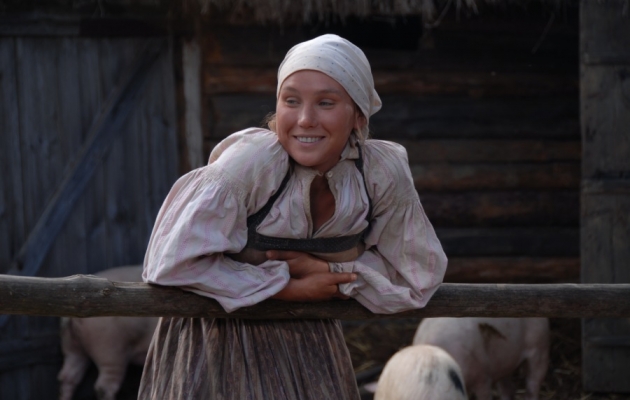 Screenings
10/21, 17:00 · Kino Centrum
The plot is set between 1909 and 1921 — a village in Russia ig going through some rough times: a world war, revolution, and a patriotic war. The film tells a story of a "simple woman", who is an absolutely average village girl. We observe the fate of the country and the blood pages of its history, from the perspective of her life and love. She will also be our guide to the complicated relationships between people in the village, and the unwritten rules that define this community.
Once Upon a Time There Lived a Simple Woman is an epic film about the history of Russia. It will makes us watch unprecedented ruthlessness and bestiality of revolutionaries... Violence has no boundaries and the same goes for suffering. The film presents a streak of bloody events. Evil jumps down the throats of the protagonists, leaving them disillusioned.
| | |
| --- | --- |
| Director: | Andrey Smirnov |
| Screenplay: | Andrey Smirnov |
| Cinematography: | Nikolai Ivasiv, Yuri Shajgardanov |
| Editing: | Anna Mass |
| Cast: | Darya Yekamasova, Vladislav Abashin, Maksim Averin, Aleksey Serebryakov, Aleksei Shevchenkov |
| Awards: | Festiwal Filmów Rosyjskich Sputnik / Sputnik Russian Film Festival – Trzecie miejsce / Third place (2012) |
Andrey Smirnov was born on 1941 in Moscow. In 1962, he graduated from the director's faculty of VGIK (in the workshop of Mikhail Romm). Smirnov has won numerous prizes for his work in films at both international and national film festivals.
Filmography:
2011 – Żyła sobie baba / Zhila-byla odna baba
1979 – Faith and Fidelity / Veroy i pravdoy
1975 – Jesień / Autumn
1971 – Dworzec białoruski / Belorussian Station