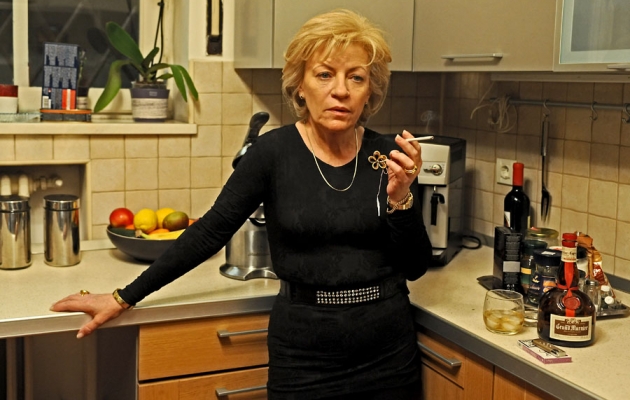 Screenings
10/27, 17:30 · Kino Centrum
Cornelia has just turned 60. She is a wealthy and respected lady, who has been successful with her career. She has a devoted husband and influential friends, among the Bucharest elites. However, this life is not to her liking... Barbu, her 34-year-old son, whom she loves most in the world, is doing everything in his power to become independent of his mother, and avoids her like the plague. He's moved out of the house, has his own car and a girlfriend, who does not satisfy his mother's "standards". Upon learning that her son was involved in a tragic accident, Cornelia starts to fight for her son... She will use all of her influences, well connected friends, and money to protect Barbu against jail. She dreams that her son will return home and be "her little boy" again...
| | |
| --- | --- |
| Director: | Calin Peter Netzer |
| Screenplay: | Răzvan Rădulescu, Calin Peter Netzer |
| Music: | Andrei Butică |
| Editing: | Dana Bunescu |
| Cast: | Luminiţa Gheorghiu, Bogdan Dumitrache, Vlad Ivanov, Florin Zamfirescu, Nataşa Raab |
| Awards: | Berlinale – Złoty Niedźwiedź: Najlepszy Film, Nagroda FIPRESCI / Golden Bear: Best Film, FIPRESCI Award (2013) |
Calin Peter Netzer was born in 1975 in Petrosani Romania. He immigrated to Germany with his family where he graduated from high school. He came back to Romania in 1994. In 1999, he obtained a diploma as a film director from the Theatre and Film University of Bucharest. After a series of short films, his debut in feature length film comes in 2003 with Maria. His third film Child's Pose won Golden Bear the 63rd Berlin IFF and has been selected as the Romanian entry for the Best Foreign Language Film at the 86th Academy Awards.
Filmography:
2013 – Pozycja dziecka / Child's Pose
2009 – Medal honorowy / Medal of Honour
2003 – Maria