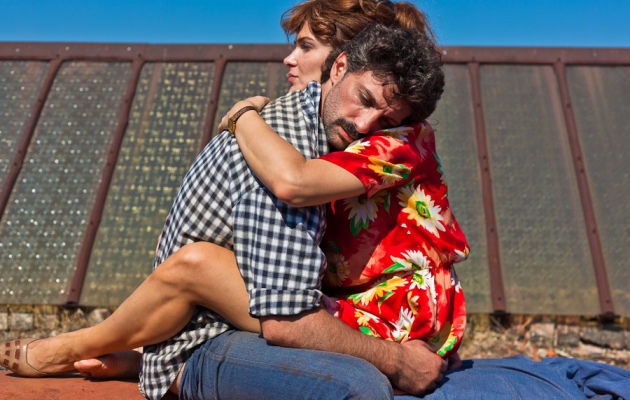 Screenings
10/26, 13:30 · Kino Centrum
It is 1992, when ARO, a state-owned factory that manufactures off-road vehicles becomes bankrupt, in Muscel, Romania. The French are interested in buying the factory out and turning it into a company that produces canned snails. The new factory will have jobs for only 300 people. George, the leader of a local trade union, is desperately looking for a solution that would save the factory. He has problems with his wife and mistress (personal assistant of the factory's president), the latter of who falls in love with one of the French investors. Finally, Alex comes up with a mad idea... He convinces a thousand men working at the factory to donate their sperm to the newly opened sperm bank in Bucharest. This way, they can get the money they need to keep the factory.
| | |
| --- | --- |
| Director: | Tudor Giurgiu |
| Screenplay: | Ionuț Teianu |
| Music: | Vlaicu Golcea |
| Cinematography: | Vivi Drăgan Vasile |
| Editing: | Nita Chivulescu |
| Cast: | Andi Vasluianu, Monica Bîrlădeanu, Dorel Vișan, Jean-François Stevenin, Robinson Stevenin |
| Awards: | Warsaw Film Festival – Nagroda specjalna Jury / Special Jury Award (2012) |
Tudor Giurgiu was born 1972 in Cluj-Napoca, Romania. He graduated from the Theatre and Film Academy in Bucharest in 1994. He was President of the Romanian National Television, TVR between 2005 and 2007. Tudor Giurgiu is also a director of music videos and has made documentaries. Giurgiu owns Librafilm, an independent production company and is the initiator and President of the Transilvanian Film Festival.
Filmography:
2012 – Ślimaki i ludzie / Of Snails and Men
2006 – Love sick – Niebezpieczne związki / Love Sick