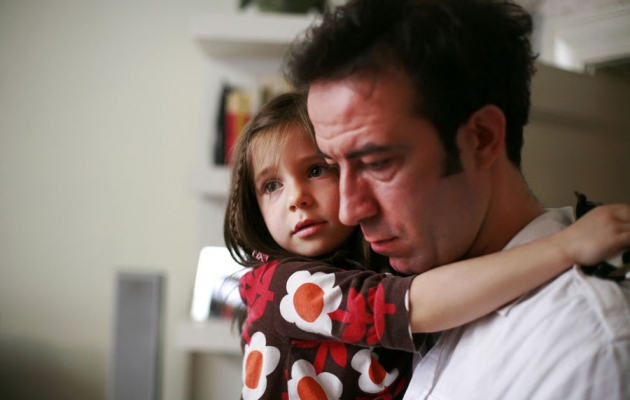 Screenings
10/23, 13:30 · Kino Centrum
Marius is a divorced man in his late thirties. His five year old daughter lives with her mother, her mother's new husband and parents, much to Marius' frustration. Every little thing he does is meant to serve one purpose only: to make the intended trip to the seaside with his daughter Sofia come true. Little by little, and despite his attempts to face ever mounting troubles, Marius loses battle after battle — with his parents, his former mother-in-law, his ex wife Otilia, and her new partner. In the end, the balance of power is tilted, and everyone's cards are laid on the table.
| | |
| --- | --- |
| Director: | Radu Jude |
| Screenplay: | Radu Jude, Corina Sabau |
| Cinematography: | Andrei Butică |
| Editing: | Cătălin Cristuţiu |
| Cast: | Şerban Pavlu, Sofia Nicolaescu, Gabriel Spahiu, Mihaela Sirbu, Tamara Buciuceanu-Botez |
| Awards: | CinEast – Grand Prix (2012); MFF Art Film Fest / IFF Art Film Festval – Niebieski Anioł: Najlepszy Reżyser, Najlepsza Rola Męska / Blue Angel: Best Director, Best Male Performance (2012); MFF w Sarajewie / Sarajevo FF – Najlepszy Film / Best Film (2012) |
Radu Jude was born in Bucharest, in 1977. He graduated in 2003 the filmmaking Department of Media University. He worked as an assistant director for feature films shot in Romania, for example Amen by Costa-Gavras. He directed the shorts Wrestling (2003), The Black Sea (2004), The Tube with a Hat (2006), In the Morning and Alexandra (both in 2008), as well as the feature film The Happiest Girl in the World (2009) and Everybody in the family (2012).
Filmography:
2012 – Wszyscy w naszej rodzinie / Everybody in the family
2009 – Najszczęśliwsza dziewczyna na świecie / The Happiest Girl in the World