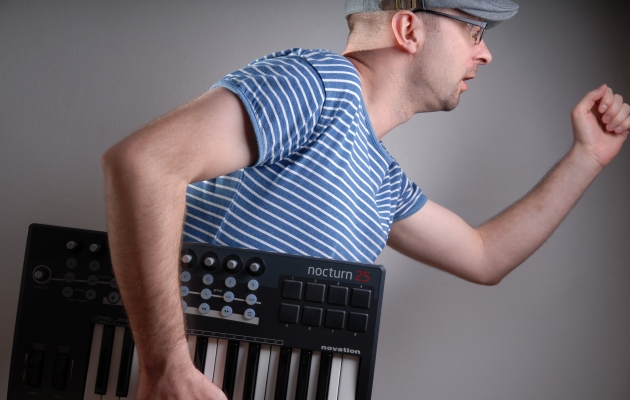 Screenings
10/22, 19:30 · Kino Centrum
The film can serve as a guide to the ideology of Soviet Russia in 1920s. The story is set during the civil war in Ukraine. Apollon Shmyguyev is the so-called "neutral citizen", who does not care much for any of the ideologies that clash with each other on the streets of Kiev. Apollon uses all in his power to take advantage of the omnipresent chaos. The plot in this road comedy makes the main protagonist vacillate between the Red Army and the White Army, and even join the anarchists for a brief period of time. However, it soon turns out that the only desire Apollon Shmyguyev actually has is shady business, which he hope will make him rich.
The director intended to ridicule his protagonist-chameleon, but little did he expect that Apollon Shmyguyev would become would soon become the most popular model of the Soviet man.
Marcin Pukaluk is a composer, performer, and music producer. He was so fascinated with silent films that — as part of his private projects, called "Ekran w Mroku" (Screen in the Dark) and "Ekran i Rewolucja" (Screen and Revolution) — he would perform live music to the films made by German expressionists and the masterpieces of silent cinema, created in Russia and Ukraine, including Metropolis (1927), The Cabinet of Dr. Caligari (1920), Nosferatu: A Symphony of Horror (1922), The General (1926), or Pan Tadeusz (1928). He creates a very diverse music, both in terms of texture and style. The nature of his music is determined by the image and its shade, as well as the method of framing characters in the film, and the entire aesthetic convention of the film. He has performed more than 100 times, playing live music in the best art houses in Poland. He performed, as part of such film event as the American Film Festival in Wroclaw, Sputnik over Poland, or the Polish Film Festival "Vistula" in Moscow.
| | |
| --- | --- |
| Director: | Mikołaj Szpikowski / Nikolai Shpikovsky |
| Screenplay: | Nikolai Shpikovsky, Vadim Okhrimenko |
| Music: | Marcin Pukaluk (live) |