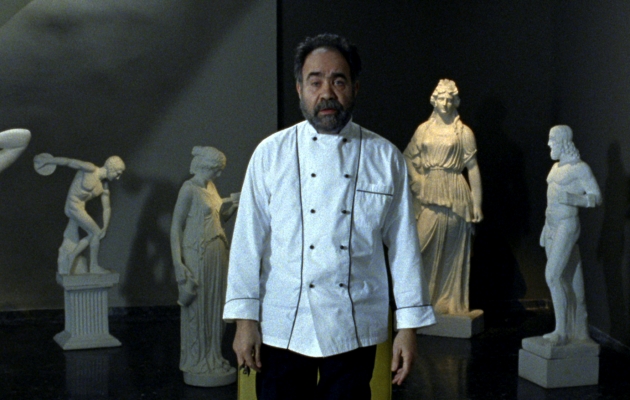 Screenings
10/22, 14:00 · Kino Centrum
The story of a hero of our time. Antonis arrives at a hotel resort by the sea. It is wintertime, the hotel is closed and he drifts around alone. He has a lot of time to kill. Until television announces the disappearance of the famous TV host Antonis Paraskevas...
As director put is: "Antonis Paraskevas is a hero of our times, the kind who's never actually performed any heroic deeds. He hasn't slain any dragons, he hasn't fought any wars — he can't even fly! He is just your average Joe. Only difference is, this one was once worshipped. Antonis was the kind of guy everyone wanted to be, a by-product of the entertainment industry, our modern-day hero generator. (...) is a tragic kind of hero. His fate is pre-determined, his end is inevitable and there's nothing he can do to change it."
| | |
| --- | --- |
| Director: | Elina Psykou |
| Screenplay: | Elina Psykou |
| Music: | Felizol |
| Cinematography: | Dionysis Efthimiopoulos |
| Editing: | Nikos Vavouris |
| Cast: | Christos Stergioglou, Maria Kallimani, Giorgos Souxes, Theodora Tzimou, Syllas Tzoumerkas, Lena Giaka, Vasilis Dimitroulias |
Elina Psykou was born in Athens in 1977. She studied Film Direction at Lykourgos Stavrakos Film School and Sociology at Panteion University, both in Athens. She continued her studies in Cultural History in Paris, France (E.H.E.S.S). In 2007, she participated in the Berlinale Talent Campus. She has written and directed two short films and she has also directed TV spots for the National Greek Opera. She is a partner at GUANACO Film Production Company.
Filmography:
2013 – The Eternal Return of Antonis Paraskevas / I aionia epistrofi tou Antoni Paraskeua