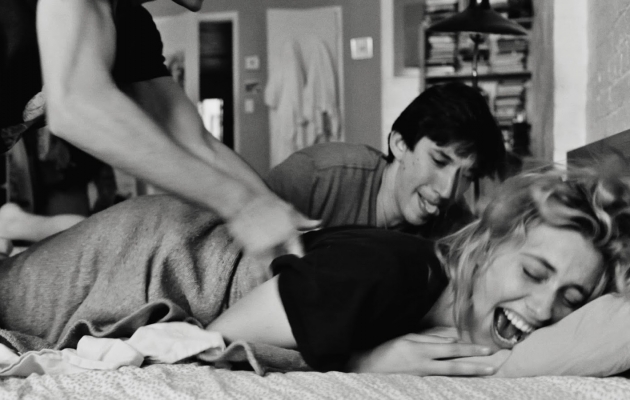 Screenings
10/24, 12:45 · Od Nowa – new hall
Frances (Greta Gerwig), 27 years old woman, lives in Brooklyn, New York, but she doesn't really have an apartment. Frances is an apprentice for a dance company, but she's not really a dancer. Frances has a best friend named Sophie, but they aren't really speaking anymore. Frances throws herself headlong into her dreams, even as their possible reality dwindles. Frances wants so much more than she has, but lives her life with unaccountable joy and lightness. Frances Ha is a modern comic fable in which Noah Baumbach explores New York, friendship, class, ambition, failure, and redemption. This charming, drifty indie comedy, shot in gorgeous black and white, is also a kind of love story.
| | |
| --- | --- |
| Director: | Noah Baumbach |
| Screenplay: | Greta Gerwig, Noah Baumbach |
| Music: | George Drakoulias |
| Cinematography: | Sam Levy |
| Editing: | Jennifer Lame |
| Cast: | Greta Gerwig, Mickey Sumner, Adam Driver, Michael Zegen, Patrick Heusinger, Michael Esper |
Noah Baumbach was born in 1969 in New York. He is writer, director and independent filmmaker. Baumbach made his writing and directing debut at the age of 26 with Kicking and Screaming (1995). Then he wrote and directed Mr. Jealousy (1997), The Squid and the Whale (2005) and Margot at the Wedding (2007). His film Greenberg was released March 2010, and was nominated for the Golden Bear. He is also a contributor of humor pieces to the "Shouts and Murmurs" section of "The New Yorker".
Filmography:
2012 – Frances Ha
2010 – Greenberg
2007 – Margot jedzie na ślub / Margot at the Wedding
2005 – Walka żywiołów / The Squid and the Whale
1997 – Zazdrośnik / Mr. Jealousy