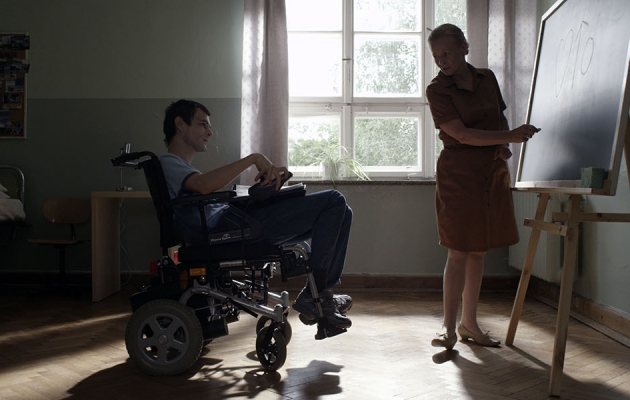 Screenings
10/24, 19:00 · Od Nowa – new hall
When Mateusz was born, doctors immediately gave up on him and considered him "cabbage". His parents never accepted this verdict, though, and believed that their son was fully capable, in terms of his intellect, despite problems with communication. Mateusz is growing up, surrounded by care and love, and he makes a faithful friend, Anka, who lives nearby. Unfortunately, a twist of fate forces him to part with his family, and he ends up in a specialist health centre. Away from his loved ones, he decides to start a tough struggle for dignity and the right to live a normal life. His situation takes a turn, when a young female volunteer is sent to the centre, and Mateusz becomes the centre of attention for a young doctor, who is working on experimental methods of treatment. The story was based on actual events, and it is a warm and touching film, full of optimism and humour.
| | |
| --- | --- |
| Director: | Maciej Pieprzyca |
| Screenplay: | Maciej Pieprzyca |
| Music: | Bartosz Chajdecki |
| Cinematography: | Paweł Dyllus |
| Editing: | Krzysztof Szpetmański |
| Cast: | Dawid Ogrodnik, Kamil Tkacz, Dorota Kolak, Arkadiusz Jakubik, Katarzyna Zawadzka, Anna Nehrebecka |
| Awards: | FPFF w Gdyni / Gdynia Film Festival – Srebrne Lwy, Nagroda Publiczności, Złoty Klakier, Nagroda Specjalna: Kryształowa Gwiazda ELLE dla Dawida Ogrodnika / Silver Lions, Audience Award, Golden Claquer, Special Prize: ELLE Crystal Star for Dawid Ogrodnik (2013); MFF w Montrealu / Montreal IFF– Grand Prix, Nagroda Publiczności, Nagroda Jury Ekumenicznego / Grand Prix, Audience Award, Ecumenical Film Prize (2013) |
Maciej Pieprzyca was born in Katowice, in 1964. He is a screenwriter and film director, who has devoted his entire professional life to Silesia. In 1989, he graduated from journalism at the University of Silesia; in 1990, from studies in screenwriting at the Film School in Lodz, and from the faculty of directing at Krzysztof Kieslowski Radio and Television Faculty of the University of Silesia in Katowice, in 1995. He is the author of award-winning documentaries, i.e. Knockout and I'm a murderer, as well as TV shows: Barber, Get down, Family Show, and feature films like Inferno (as part of Generation 2000 series), St. Barbara's Day (part of the Polish holidays TV series), and Splinters (2008), which won numerous awards. He also directed a number of episodes for popular TV series, such as Crime Detectives or For better and for worse.
Life feels good, a brand new film by Maciej Pieprzyca, has had its premiere this year and already gained international recognition at the 37th IFF in Montreal, winning Grand Prix, Audience Award, and Ecumenical Film Prize.