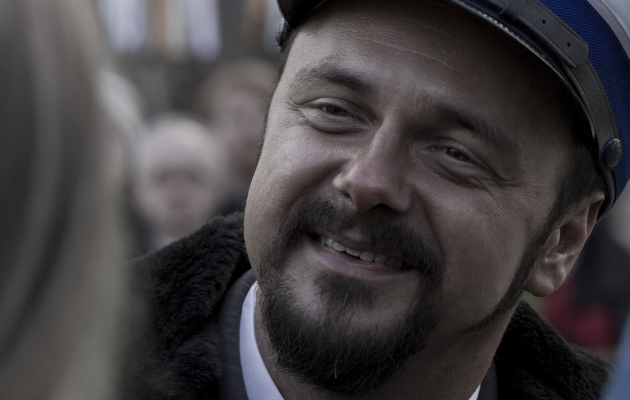 Screenings
10/23, 19:15 · Od Nowa – new hall
According to the director, Traffic Department "is a colourful story about contemporary Warsaw. This is a subjective portrait of the city pulsating with headlights and roof lights on police cars. It is a film about stupid drivers, absurd traffic regulations, traffic jams, motorways built on paper, and roads with potholes — they way they actually look like. And also about a simple fact: if there are those, who take, then there are those, who give. One can reflect on the subtle difference between a bribe and a token of gratitude. (...)". The plot encompasses events that take place in a single week. The protagonists are a group of friends, who share the same line of work, same passions and businesses. The criminal thread is equally important, as it is a parable about corruption, which — according to the director's own words — starts on the back seat of a police car, and ends in... Brussels.
The film is co-financined by Polish Film Institute.
| | |
| --- | --- |
| Director: | Wojciech Smarzowski |
| Screenplay: | Wojciech Smarzowski |
| Music: | Mikołaj Trzaska |
| Cinematography: | Piotr Sobociński jr, PSC |
| Editing: | Paweł Laskowski, PSM |
| Cast: | Bartłomiej Topa, Arkadiusz Jakubik, Julia Kijowska, Eryk Lubos, Jacek Braciak, Marcin Dorociński, Robert Wabich, Agata Kulesza, Marian Dziędziel, Izabela Kuna |
| Production: | Film it. Koproducja / Co-production: Agora SA, Telekomunikacja Polska, Canal+ Cyfrowy |
| Distribution: | Next Film |
| Awards: | Polska Akademia Filmowa / Polish Film Academy – Orły: Najlepszy Scenariusz, Najlepsza drugoplanowa rola męska / Eagles: Best Screenplay, Best Supporting Male Character (2013); FPFF w Gdyni / Gdynia Film Festival – Najlepszy montaż / Best Editing (2013) |
Wojciech Smarzowski was born in 1963. He has graduated from the Faculty of Cinematography at the Film School in Lodz. He also studied film studies at the Jagiellonian University. He is an author of commercials, music videos, TV series and documentary films.
Filmography:
2013 – Drogówka / Traffic Department
2012 – Róża / Rose
2009 – Dom zły / The Dark House
2004 – Wesele / The Wedding
1998 – Małżowina / Shell Auricle