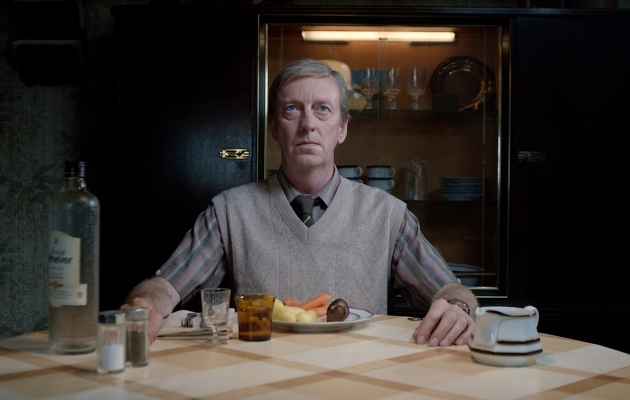 Screenings
10/24, 14:45 · Od Nowa – new hall
Fred is a lonely 54-year-old man. Since the death of his wife, he has lived alone in a small village. Fred rides around in the local bus, virtuously attending church and eating his green beans, meat and potatoes at 6 o'clock on the dot every day.
One day, the tramp Theo wanders into his life. After an initial moment of suspicion, Fred takes Theo in. Like a strict father, he tries to educate his new housemate. He soon finds out that Theo has a special talent, as a result of which Fred again slowly starts to set out into the wide world.
The style of this tragicomic story can in some ways be compared with the absurdism of Alex van Warmerdam. While the story is set in the present, the Dutch atmosphere of the 1950s presses heavily on the characters. The production design is also beautifully attuned to the God-fearing, stern mood the Dutch know so well.
| | |
| --- | --- |
| Director: | Diederik Ebbinge |
| Screenplay: | Diederik Ebbinge |
| Cinematography: | Dennis Wielaert |
| Editing: | Michiel Reichwein |
| Cast: | René van 't Hof, Ton Kas, Porgy Franssen, Ariane Schluter, Helmert Woudenberg |
| Awards: | Rotterdam IFF – Nagroda Publiczności / Audience Award (2013); Moscow IFF – Nagroda Publiczności / Audience Award (2013) |
Diederik Ebbinge was born 1969 in Enschede. He studied at the cabaret academy in Amsterdam and after graduating founded the popular theatre company De Vliegende Panters along with several classmates. He has been seen as an actor in several Dutch films and TV series and has also directed several short fiction films, for example Naakte (2006) and Succes (2008). Matterhorn is his feature debut.
Filmography: