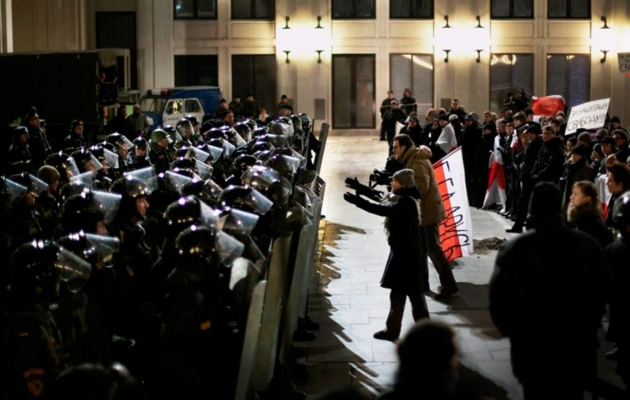 Screenings
10/24, 19:00 · Kino Centrum
Viva Belarus! presents the lot of the leading oppositionist in Belarus and the reality of a country that struggles with the dictatorship of Alexander Lukashenko. The main protagonist is Miron, a rock musician. He rebels openly against the system that persecutes his fellow countrymen — especially those, who have the courage to speak Belarusian. Taking such stance exposes his rock band to the risk of being included in the "black list", which is tantamount to a ban on public performances. His personal price for criticising the government is conscription and severe repression from his army commanders. Appalled at successive manifestations of bullying in the military, Miron stirs a true storm in the anti-system mass media, as he and his girlfriend Wiera — a beautiful girl and equally rebellious in spirit — start an Internet journal, in which they reveal they darkest sides of life in the regime-controlled army barracks. When his entries in the journal start an Internet revolution, the authorities decide to hit the invincible rebel in his weakest point...
| | |
| --- | --- |
| Director: | Krzysztof Łukaszewicz |
| Screenplay: | Krzysztof Łukaszewicz, Franak Viačorka |
| Music: | Lavon Volski |
| Cinematography: | Witold Stok |
| Editing: | Krzysztof Szpetmański |
| Cast: | Dźmitry Vinsent Papko, Karolina Gruszka, Denis Tarasenko, Aliaksandr Malčanau, Paval Kryksunou |
| Awards: | FPFF w Gdyni / Gdynia Film Festival – Nagroda Publiczności dla najlepszego filmu w sekcji Panorama / Audience Award for the Best Film in the Panorama section (2013) |
Krzysztof Łukaszewicz (born in 1976 in Szczecin) graduated from the Faculty of Economics and Management at the University of Szczecin, and Journalism and Political Sciences at Warsaw University. He has been connected with the Polish cinema for several years. He worked as an Assistant Director for the movies: Fire and Sword and Quo Vadis. As a Second Director he was involved in such film and television productions as John Paul II, Benek, General Nil and Glina II. Thriller Lynch was his feature film debut.
Filmography:
2012 – Żywie Biełaruś! / Viva Belarus!
2010 – Lincz / Lynch