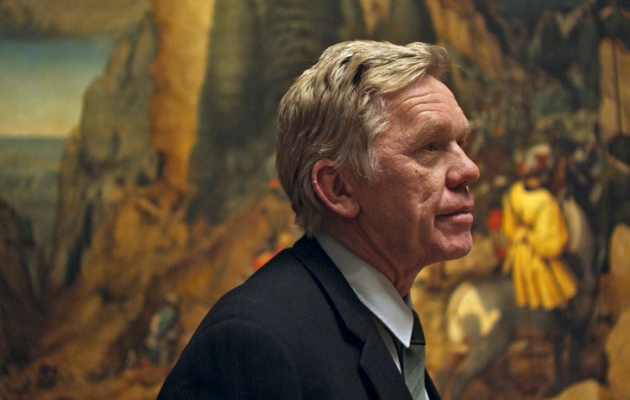 Screenings
10/23, 14:30 · Od Nowa – new hall
Vienna, winter. Johann, a guard at the grand Kunsthistorisches Art Museum encounters Anne, a foreign visitor called to Austria because of a medical emergency. Never having been to Austria and with little money, she wanders the city in limbo, taking the museum as her refuge. Johann, initially wary, offers help, and they're drawn into each other's worlds.Their meetings spark an unexpected series of explorations – of their own lives and the life of the city, and of the way artworks can reflect and shape daily experience. The museum is seen in the film not as anarchaic institution housing historical artifacts, but as an enigmatic crossroads in which, through the artworks, a discussion takes place across time with vital implications in the contemporary world. While the "conversations" embodied in the museum's collection revolve around nothing less than the matters that most concern us all: death, sex, history, theology, materialism.
| | |
| --- | --- |
| Director: | Jem Cohen |
| Screenplay: | Jem Cohen |
| Cinematography: | Jem Cohen, Peter Roehsler |
| Editing: | Jem Cohen, Marc Vives |
| Cast: | Mary Margaret O'Hara, Bobby Sommer, Ela Piplits |
| Awards: | MFF w Locarno / Locarno IFF – C.I.C.A.E. Award (2012) |
Jem Cohen was born 1962 in Kabul, Afghanistan, now he lives in New York. He is a director, scriptwriter, editor and cinematographer. His feature-length films include Instrument, Evening's Civil Twilight in Empires of Tin and Museum Hours. His films are in the collections of NYC's Museum of Modern Art and Whitney Museum. He has collaborated with musicians including Fugazi, Patti Smith, Terry Riley, Godspeed You Black Emperor! and R.E.M.
Filmography:
2012 – Museum Hours / Godziny otwarcia
2008 – Evening's Civil Twilight in Empires of Tin
1999 – Instrument