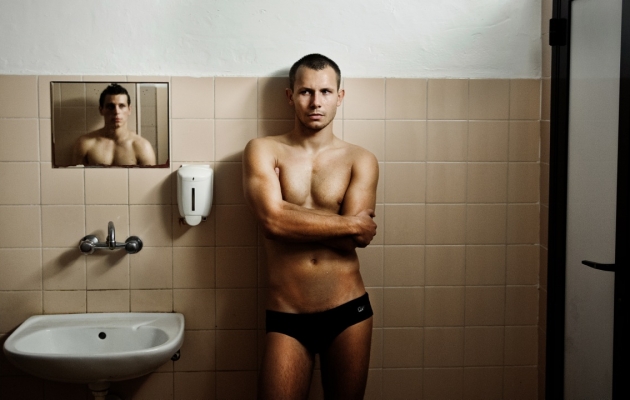 Screenings
10/25, 21:00 · Od Nowa – new hall
Floating Skyscrapers is a modern and universal story about growing up, looking for your own identity, and accepting yourself and others. This film is virtually boiling with emotions. It touches a subject that removes a taboo and stirs up controversies.
Kuba lives with his mother and a girlfriend, Sylwia. His life seems to be simple and sorted out. He lives with a girlfriend he loves, studies at the Józef Piłsudski University of Physical Education in Warsaw, where practices swimming. He is one of the most promising competitors and main favourites to participate in the coming competition. Apart from that he has a normal life, just as all of his peers. Being at a party, he meets Michał. Both men develop a strong bond and Kuba is surprised to discover his homosexual nature. He is terrified of the feelings that have awakened inside him and cannot adapt to the new situation. His relationship with Sylwia, which seemed permanent and strong, now becomes much complicated...
| | |
| --- | --- |
| Director: | Tomasz Wasilewski |
| Screenplay: | Tomasz Wasilewski |
| Music: | Baasch |
| Cinematography: | Jakub Kijowski |
| Editing: | Aleksandra Gowin |
| Cast: | Mateusz Banasiuk, Bartosz Gelner, Marta Nieradkiewicz, Olga Frycz, Katarzyna Herman, Izabela Kuna, Mirosław Zbrojewicz |
| Awards: | MFF Karlovy Vary / Karlovy Vary IFF – Nagroda Główna konkursu East of the West / Main Award in the East of the West Competition (2013); MFF Nowe Horyzonty Wrocław / T-Mobile New Horizons IFF in Wrocław – Nagroda Publiczności w Międzynarodowym Konkursie / Audience Award in the International Competition (2013); Film Forum Zadar / Avvantura Festival Film Forum Zadar – Nagroda za najlepszą rolę męską / Award for Best Male Performance (2013) |
Tomasz Wasilewski graduated from the Leon Schiller National Higher School of Film, Television and Theatre in Lodz and the Film & Television Academy in Warsaw. He performed the role of an assistant director during the making of the feature film entitled 33 Scenes from Life, directed by Małgorzata Szumowska. He is also a director and screenwriter short documentary film One man show and the director, screenwriter and executive producer of short feature film Nawiść.
Filmography:
2013 – Płynące wieżowce / Floating Skyscrapers
2012 – W sypialni / In the Bedroom