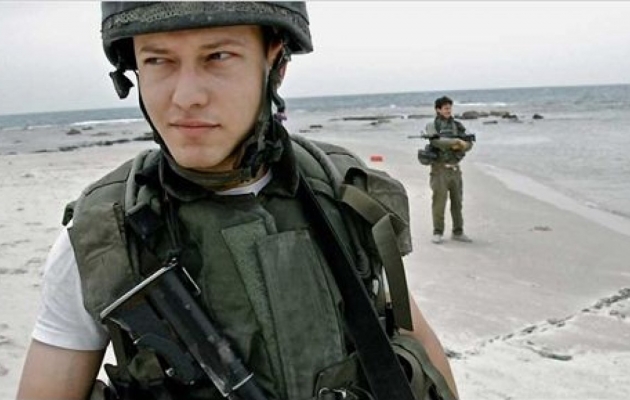 Screenings
10/26, 13:15 · Od Nowa – new hall
The Gaza Strip in the early summer of 1989. A company of young Israeli soldiers reports for duty in the occupied area. Continuous clashes with the Palestinian population soon claim their first fatality: one of the soldiers, Iliya, is killed when a washing machine is dropped on him from the rooftop of an apartment block. The perpetrator escapes. In order to find him, their commanding officer orders some of the soldiers to take up position on the roof for the weekend. In spite of vehement protests from the building's Palestinian owner, who fears being considered a collaborator, Aki, Ariel, Haim and Tomer begin their vigil. A lounger is set up and they listen to rock music on their transistor radio. But when the dead soldier Iliya's father, now a broken man, pays them a visit they realise each and every one of them will lose their innocence in that place.
| | |
| --- | --- |
| Director: | Yariv Horowitz |
| Screenplay: | Guy Meirson, Yariv Horowitz |
| Music: | Assaf Amdursky |
| Cinematography: | Amnon Zalait |
| Editing: | Isaac Sehayek |
| Cast: | Yon Tumarkin, Yotam Ishay, Roy Nik, Iftach Rave, Khawla Alhaj Debsi |
| Awards: | Berlinale – Nagroda CICAE dla najlepszego filmu w sekcji Panorama / CICAE Award for Best Film in the Panorama Section (2013) |
Yariv Horowitz was born in Pardes Hanna in Israel in 1971, he spent three years in Paris during his schooldays before returning to Israel to study film. He completed military service as a photographer and director in the Film Department of the Educational Corps and was active chiefly in the Occupied Territories. A director of many Israeli and international music videos, TV shows and commercials, in 2012 he was elected as Chairman of the Directors Guild of Israel. He lives and works in Tel-Aviv.
Filmography:
2012 – Rock the Casbah / Rock Ba-Casba