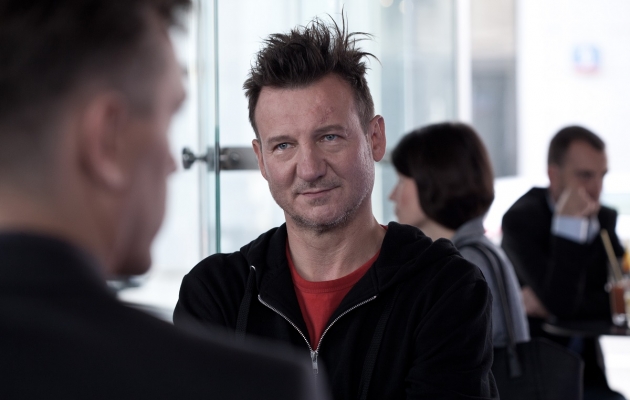 Screenings
21 October, 17:00 · Od Nowa – new hall
Edward is grouchy and completely indifferent to the reality that surrounds him. Virtually everything drives him crazy. As if he was always wearing shoes one size too small. He is nasty to his wife, impatient with his daughter, and finds barely any time for his elderly father. One day, Edward has a dangerous accident. He decides to abandon his current way of life and re-establish bonds with his wife, daughter, and the world around him, as a result of a chain of events. He starts feeling happy and seeing other people and objects that have always been around but never seen. They say that happiness is contagious, within the distance of 800 metres. This must be true, because Edward has this positive aura around him. More importantly, he does not leave the country or goes travelling the world, or travels to the Amazon. He still lives in the same apartment, walks on the same pavement, and meets the same people, but everything is so different...
| | |
| --- | --- |
| Director: | Jerzy Zieliński |
| Screenplay: | Fadi Chakkour |
| Music: | Karim Martusewicz |
| Cinematography: | Jan Holoubek |
| Editing: | Rafał Listopad |
| Cast: | Robert Więckiewicz, Magdalena Popławska, Bartłomiej Topa, Anna Niedźwiecka, Krzysztof Czeczot, Jerzy Trela, Jan Peszek |
| Production: | Robert Kijak, Kamil Przełęcki |
| Distribution: | Next Film |
Jerzy Zieliński was born in Szczecin, in 1950. In 1974, he graduated from the Department of Photography & Television Production at the Lodz Film School. Since mid-1980s, he has been working as a cinematographer, mostly abroad. He is a member of the American Society of Cinematographers (ASC). In the years 2012–2015, he was president of the Polish Society of Cinematographers (PSC). King of Life is his directing debut.
Filmography:
2015 – Król życia / King of Life