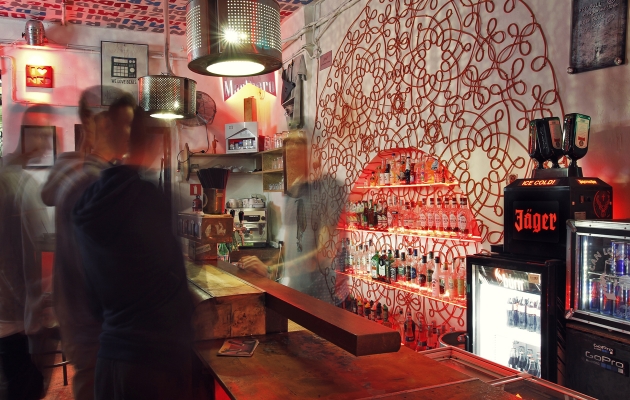 There is a special venue hiding on one of the side streets in Toruń, which has become a permanent place on the party map of city.
The NRD Club is a space that offers unique and alternative interior. There are no limits to the music genres played inside and whatever you get is always of the top quality. While there, you will have a chance to experience extraordinary artists and meet people open to new sounds, crash the party, or simply drink some good alcohol in excellent company. The Club is addressed to people looking for novelties and to those, who have something interesting to offer.
Timetable of TOFIFEST at eNeRDe
Concert of Lilly Hates Roses
When: 18th October
The band was formed at the end of 2012. They have completed 5 tours encompassing 7 countries and performed at several Polish festivals. They have had an opportunity to play a full time concert at the prestigious Agnieszka Osiecka Studio at Radiowa Trojka (Polish Radio Station). Their debut single Youth was broadcast on the legendary American KEXP radio station. Their second album, Mokotow, was released on 30th June.
Tickets: 20 PLN (pre-sale) / 25 PLN (on the day of the concert)
"I don't like Mondays" — performed by Dj Funktion!
When: 19th October
According to many, Monday is the worst day of the week. One can list a great many reasons to prove that right. But we are fortunate enough to have somebody, who is capable of changing each day of the week into a holiday... Juliusz will play at the bar and dancing will continue until morning. Even Mondays are likeable, you'll see!
DJ Funktion (Juliusz Pacek) lives and works in Toruń. He is a musician and turntabler, who has been involved in the Toruń music scene since 2004. At present, he is a resident of the NRD Club. He was involved in making albums for a number of Polish rappers, including Kilka Numerów o Czymś, Małpy, and Teorii Równoległych Wszechświatów by Medium. He composes soundtracks and music for stage plays, films, and festivals. He also organises cultural events and conducts music workshops. Twice in his career, in 2012 and 2013, he won the first place in the IDA Hong Kong International Open Dance Championships, in the "Show" category.
We Love Beats on Tuesdays
When: 20th October
Tuesdays at NRD are special, which we owe to the two gentlemen that change those days into a music festival. Each night is different, although they perform every week. Furia and WRB make us familiar with their musical inspirations every single week.
NADA Festival #7 Night Marks Electric Trio + Paulina Przybysz | Resident's Afterparty!
When: 21st October
NADA is a new, periodic festival aimed at presenting new musical genres to the residents of Torun. The last gig of this edition of the festival will feature gentlemen from Night Marks Electric Trio, i.e. a very original trio that blur the boundaries between hip-hop and the heritage of soul music, and the latest electro sounds. They will be supported by the unique voice of Paulina Przybysz. Feel invited to join a free afterparty with our resident, Stosunkowodobry Waca, following the concert!
Tickets: 10 PLN (pre-sale) / 20 PLN (on the day of the concert)
Afterparty: Free admission!
Afterparty following the screening of the "Steve Nash & Turntable Orchestra" documentary
When: 22nd October
The excellent project Steve Nash & Turntable Orchestra has been finally filmed as a documentary. The film will have its première at this year's TOFIFEST and you can join the afterparty at the NRD Club. Soundtrack to the party will be performed by one of the nine masters of turntablism, the one and only DJ Funktion! That will be a blast!
Kękę Nowe Rzeczy + Afterparty Turnatable Orchestra part 2
When: 23rd October
KęKę, who represents Radom, started to be a buzz with his album titled Takie Rzeczy (Such Things), which was released in 2013 by PROSTO Label. The music he offers is very distinctive and focuses attention, in a music world flooded with safe-as-milk rap novices, who make music tailored to the patterns enforced by the media. The success of the debut album that got the Gold Record Award and a twelve-month tour that followed brought the fruit of a sophomore album, which became gold, after a mere month since its release. Nowe Rzeczy (New Things) is a story of fighting addiction and learning anew how to get a grip on reality. KęKę does not preach, although he certainly discusses important issues, using his characteristic narration that is rough, blunt, and deprived of clichés. The album does not lack somewhat lighter subjects, though.
Following the concert, there will be a hot afterparty, and the musical setting will be provided by DJs known from Stave Nash & Turnatable Orchestra.
Tickets to the events: 25 PLN (pre-sale) / 30 PLN (on the day of the concert)
Afterparty: Free admission!
TOFIFEST & RE/MIXXX AFTERPARTY after the Golden Angel Awards Ceremony
When: 24th October
Saturday is definitely the best day to have a party. We have prepared this festival of electronic music and an audio-visual journey, with you in mind. This double afterparty is organised by the T.O.S.O.T. Collective and it will feature house and techno music — simply great!
Admission: 10 PLN
Performances by: Soundscape Mirror, Matt S., Delaplaya, and Kruszytop