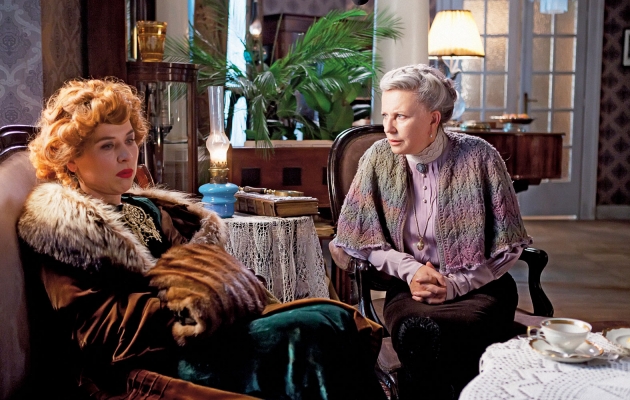 Screenings
19 October, 19:15 · Od Nowa – new hall
Rainer Dulsky (Władyslaw Kowalski), professor of psychiatry from Switzerland, comes to visit Melanie (Maja Ostaszewska), grand-daughter of Mrs. Dulska (Krystyna Janda). Melanie has a feeling that it has something to do with the tenement house occupied by the Dulscy family. Melanie, a film director, is so fascinated with the history of her family that she decides to join him in his investigation. As more and more discoveries come to light, they are taken back to a past full of secrets that were supposed to stay buried for ever... The Dulscy family have a lot to answer for...
| | |
| --- | --- |
| Director: | Filip Bajon |
| Screenplay: | Filip Bajon |
| Music: | Jan Komar, Piotr Zabrodzki |
| Cinematography: | Łukasz Gutt |
| Editing: | Milenia Fiedler |
| Cast: | Krystyna Janda, Katarzyna Figura, Maja Ostaszewska, Władysław Kowalski, Olgierd Łukaszewicz, Sławomir Orzechowski |
| Production: | Włodzimierz Niderhaus |
| Producer: | Wytwórnia Filmów Dokumentalnych i Fabularnych |
| Distribution: | Kino Świat |
| Awards: | FF w Gdyni / Gdynia FF – udział w konkursie głównym, Złoty Kangur – nagroda dla producenta filmu / Participation in the Main Competition, Golden Kangaroo – Film Producer Award (2015) |
Filip Bajon was born in Poznań, in 1947. He is a film and theatre director, screenwriter, and author of literary work. Back in 1990s, he was the director of the "Dom" Film Studio, and in 2015 he was chosen to be the director of the "Kadr" Film Studio. He is a board member of the Polish Filmmakers Association. He is a teacher at the Krzysztof Kieslowski Faculty of Radio and Television University of Silesia in Katowice and at the Lodz Film School. He has been the dean of the Film and Television Direction Department, at the Lodz Film School, since 2008.
Selected filmography:
2015 – Panie Dulskie
2010 – Śluby panieńskie / Maiden Vows
2005 – Solidarność, Solidarność...
2001 – Przedwiośnie / The Spring to Come
1993 – Lepiej być piękną i bogatą / Better to Be Pretty and Rich
1979 – Aria dla atlety / Aria for an Athlete