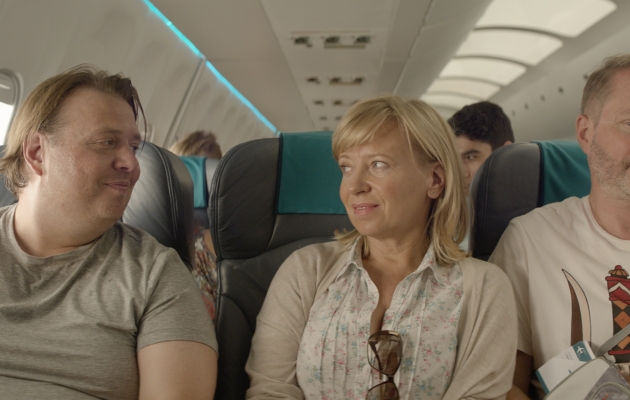 25 October, 18:00 · CKK Jordanki
It is a multi-layered story about people, who get entangled in a whirl of unexpected events that have a significant impact on their lives.
While out on a date, an attractive author of detective novels has an encounter with her ex-boyfriend. On her way back from holidays, a couple choose the worst possible seat on the plane. A teenager smokes pot for the first time in his life and has a trip of his life. A young girl takes the risk that she might be exposed as a porn star. A bride gives birth during her own wedding party, with the help of a pet psychologist, and at the same time a waiter tries to save the planet.
The film is a daring comedy, in which nothing is what it seems to be, and where everyday life becomes a roller-coaster into madness.
| | |
| --- | --- |
| Director: | Paweł Maślona |
| Screenplay: | Paweł Maślona, Bartłomiej Kotschedoff, Aleksandra Pisula |
| Music: | Jimek |
| Cinematography: | Cezary Stolecki |
| Editing: | Agnieszka Glińska |
| Cast: | Artur Żmijewski, Dorota Segda, Nicolas Bro, Magdalena Popławska, Grzegorz Damięcki, Julia Wyszyńska |
| Producer: | Jan Kwieciński |
| Production: | Akson Studio |
| Distribution: | Akson Dystrybucja |
| Awards: | FF w Gdyni / Gdynia FF – Złote Lwy: Najlepsza Drugoplanowa Rola Kobieca, Oficjalna Selekcja / Golden Lions: Best Supporting Actress, Official Selection (2017) |
Paweł Maślona — he is a director, screenwriter, and editor. He has graduated from political science and also studied directing at the Krzysztof Kieslowski Radio and Television Faculty of the University of Silesia in Katowice. He is the author of short fictions For Madmen Only (2010) and Eclipse (2011). Magma (2013), his diploma project, was recognised at many film festivals, including the Gdynia Film Festival and MFF TOFIFEST, in the Shortcut Competition.
Selected Filmography
2017 – Atak paniki / Panic Attack
2013 – Magma (short)
2011 – Zaćmienie / Eclipse (short)