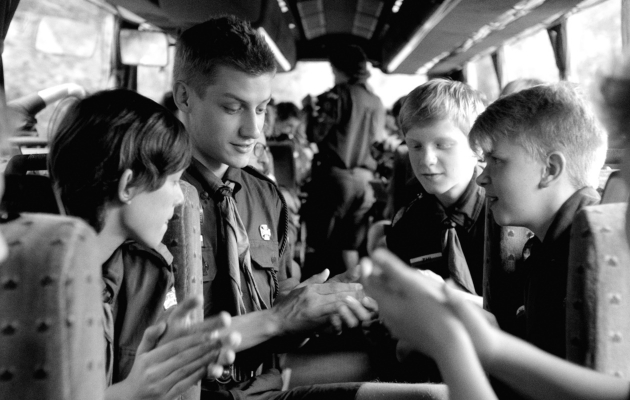 26 October, 17:00 · Cinema City – room 8
The thriller plays out in the teenage world of the internet and social media era. Two groups of boys from different social classes, representing two different value systems confront each other as a result of a risky decision taken by adults. What was to be a lesson in responsibility and tolerance is transformed into a tough battle for leadership. On the one hand is faith in noble ideals and on the other hand, the brutal law of the jungle. Young people, isolated from the outside world, sequestered in a tension-filled group, reveal their true, shocking natures.
The film marks another step ― after Suicide Room ― on the journey to discover the truth about what influences the choices young people make today. A contemporary attempt at posing dramatic questions in the spirit of the famous Lord of the Flies, in which the heroes are poised on the brink of adulthood.
| | |
| --- | --- |
| Director: | Robert Gliński |
| Screenplay: | Dorota Jankojć-Poddębniak, Robert Gliński |
| Music: | Łukasz Targosz |
| Cinematography: | Łukasz Gutt |
| Editing: | Milenia Fiedler |
| Cast: | Mateusz Więcławek, Michał Włodarczyk, Jakub Zając, Maciej Musiałowski, Magdalena Wieczorek, Zbigniew Zamachowski, Leszek Lichota, Artur Barciś |
| Producer: | Włodzimierz Niderhaus |
| Production: | Wytwórnia Filmów Dokumentalnych i Fabularnych |
| Distribution: | Monolith Films |
| Awards: | FF w Gdyni / Gdynia FF – Oficjalna Selekcja / Official Selection (2017); Warszawski FF / Warsaw FF – Oficjalna Selekcja / Official Selection (2017) |
Robert Gliński was born in 1952. He has graduated from the Faculty of Architecture of the Warsaw University of Technology, and from the Film and Television Direction Department of the Lodz Film School, on the latter of which he has lectured since 2002. In the years 2011–2014, he was the director of the Zygmunt Hubner Theatre in Warsaw. He makes feature and documentary films, as well as theatrical adaptations for television.
Selected Filmography:
2017 – Czuwaj / Be prepared
2014 – Kamienie na szaniec / Stones For the Rampart
2009 – Świnki / Piggies
2001 – Cześć Tereska / Hi Tessa
1997 – Kochaj i rób co chcesz / Love Me and Do Whatever You Want