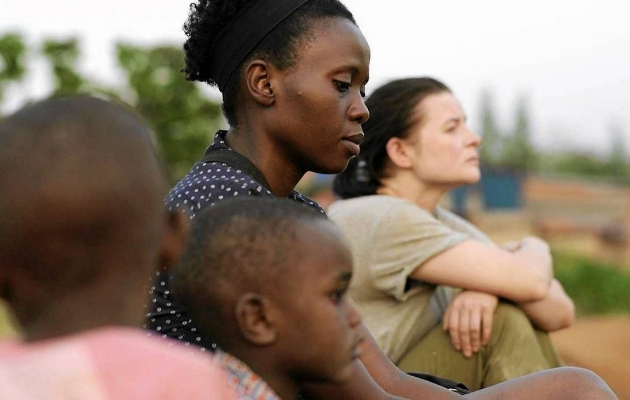 26 October, 18:00 · Kino Centrum
It is 1994. The shooting down of the presidential aircraft in Kigali, with the president of Rwanda on board, leads to riots between the Tutsi and Hutu. Over the 100 days of ethnic cleansing, around one million people are exterminated by extremists. The genocide is witnessed by Anna (Jowita Budnik), an ornithologist from Poland, who has come to Africa to carry out research into the decreasing population of vultures in Rwanda. When genocide starts, the Polish woman saves a young Tutsi woman, Claudine, from certain death. Anna helps the survivor escape to Poland. Having returned to Poland, both women struggle to recover from the terrible experience, but they are unable to come back to the normal everyday routine. A few years later, Claudine decides to go back to her home country. Anna wishes to accompany her friend on that extremely emotional trip right into the heart of Africa.
| | |
| --- | --- |
| Director: | Joanna Kos-Krauze, Krzysztof Krauze |
| Screenplay: | Joanna Kos-Krauze, Krzysztof Krauze |
| Music: | Paweł Szymański |
| Cinematography: | Krzysztof Ptak, Józefina Gocman, Wojciech Staroń |
| Editing: | Katarzyna Leśniak |
| Cast: | Jowita Budnik, Eliane Umuhire, Witold Wieliński, Ciza Remy Muhirwa, Anna Ilczuk |
| Producer: | Joanna Kos-Krauze |
| Production: | Kosfilm |
| Distribution: | Kino Świat |
| Awards: | MFF w Karlowych Warach / Karlovy Vary IFF – Najlepsza Aktorka / Best Actress (2017); FF w Gdyni / Gdynia FF – Srebrne Lwy, Najlepsza Główna Rola Kobieca, Najlepszy Montaż Silver Lions, Best Leading Actress, Best Editing (2017) |
Joanna Kos-Krauze (born in 1972) is a Polish film director and screenwriter. She has graduated from Polish studies and Hebraic studies. Together with her husband Krzysztof Krauze, they were a unique duo that created such outstanding film work as My Nikifor, Saviour Square, and Papusza.
Krzysztof Krauze (1953–2014) was a director of feature and documentary films, a screenwriter, and cinematographer. He graduated from the Department of Photography & Television Production at the Lodz Film School. His films were awarded at many film festivals, both in Poland and abroad.
Joint Filmography:
2017 – Ptaki śpiewają w Kigali / Birds Are Singing in Kigali
2013 – Papusza
2006 – Plac Zbawiciela / Saviour Square
2004 – Mój Nikifor / My Nikifor