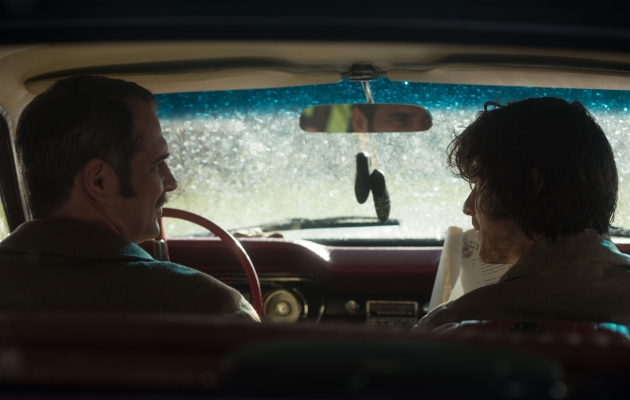 24 October, 17:00 · Kino Centrum
Stars will bewitch you with its unique atmosphere ― it is an amusing but at the same time nostalgic journey into the world of youthful dreams, which define the purpose and path of life for our heroes. The film tells a story about great love between three young people, which is never fulfilled, as they are torn between their passions, desires, and ambitions. The entire film is coloured with the fantastic Silesian temperament and brings back the former glory of Polish football. The film is based on the life of a very talented footballer Jan Banaś, who was a famous player in Polonia Bytom, Górnik Zabrze and in the Polish national team in the era of Kazimierz Górski. The main character is portrayed by Mateusz Kościukiewicz and his partner on the screen is Sebastian Fabijański. The last person in the love triangle is the phenomenal Karolina Szymczak.
| | |
| --- | --- |
| Director: | Jan Kidawa-Błoński |
| Screenplay: | Jan Kidawa-Błoński, Jacek Kondracki |
| Music: | Dariusz Kowalczyk, Piotr Ługowski |
| Cinematography: | Michał Englert |
| Editing: | Jan Kidawa-Błoński jr |
| Cast: | Mateusz Kościukiewicz, Sebastian Fabijański, Karolina Szymczak, Aleksandra Gintrowska, Magdalena Cielecka, Eryk Lubos |
| Producers: | Jarosław Pachowski, Andrzej Serdiukow |
| Production: | Film Point Group |
| Distribution: | Kino Świat |
| Awards: | Netia OFF Camera, Kraków – Oficjalna Selekcja / Official Selection (2017) |
Jan Kidawa-Błoński was born in 1953 in Chorzów. He is a director, screenwriter, producer, and actor. In the years 1972–1976, he studied architecture at the Silesian University of Technology. He graduated in direction at the Lodz Film School and made his debut as a director in 1981. In the years 1990–94 he was the president of the Polish Filmmakers Association, and from 1997 to 2001, a the member of the board of the Polish Independent Film and Television Producers Association. Jan Kidawa-Błoński is also an author of numerous TV programmes.
Selected filmography:
2017 – Gwiazdy / Stars
2013 – W ukryciu / In Hiding
2010 – Różyczka / Little Rose
2005 – Skazany na bluesa / Destined For Blues
1996 – Wirus / Virus
1992 – Pamiętnik znaleziony w garbie / Memoirs Found in a Hunched Back