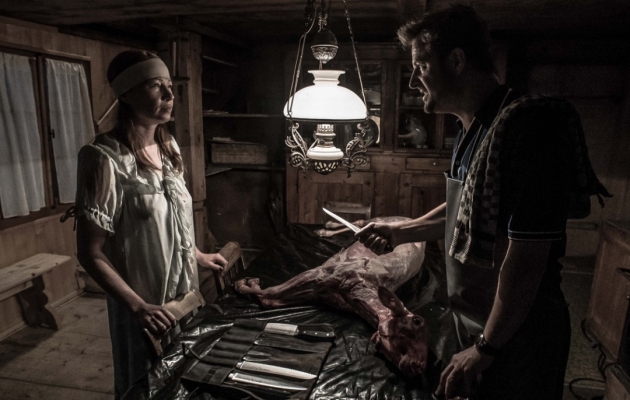 22 October, 17:30 · Cinema City – room 8
Anna and Nick hit a sheep, when driving their car. What initially seems to be a trivial road collision soon turns into a series of unusual and mysterious happenings in the lives of the two protagonists. Both of them are no longer in touch with reality: they do not know, whether the things experience are real, or only imagined... Or maybe they happen in the mind of one of them? Animals is a film that functions as a psychic riddle, making a clear reference to the style used by David Lynch. There is no final message waiting for viewers, but rather a "puzzle" composed of existential questions and an incentive to tackle the mystery of life.
As director put it: "The titular animals are catalysts for events to come. For me, animals are creatures teetering between the real and the unreal ― they function a little bit outside of human reality, and they represent a sort of bridge between our existence, which we experience with our senses, and the outer world, the wider world waiting to be discovered. And that is just one other thing I wanted to explore, that wider world."
| | |
| --- | --- |
| Director: | Greg Zgliński |
| Screenplay: | Jörg Kalt, Greg Zgliński |
| Music: | Bartosz Chajdecki |
| Cinematography: | Piotr Jaxa |
| Editing: | Karina Ressler |
| Cast: | Brigit Minichmayr, Philipp Hochmair, Mona Petri, Mehdi Nebbou, Michael Ostrowski |
| Producers: | Katrin Renz, Stefan Jäger |
| Production: | Tell Film, Opus Film, Coop 99 Filmproduktion |
| Distribution: | Be for Films |
| Awards: | Berlinale – Oficjalna Selekcja: sekcja Forum / Official Selection: Forum (2017) |
Greg Zglinski was born in 1968. He is a film director, producer, screenwriter, editor, and composer. He has graduated from the Lodz Film School. The films he has directed include, among others, A Long Winter Without Fire and Courage, and such TV series as The Crime, Paradoks and The Londoners.
Selected Filmography:
2017 – Zwierzęta / Animals
2011 – Wymyk / Courage
2004 – Cała zima bez ognia / A Long Winter Without Fire
2001 – Na swoje podobieństwo