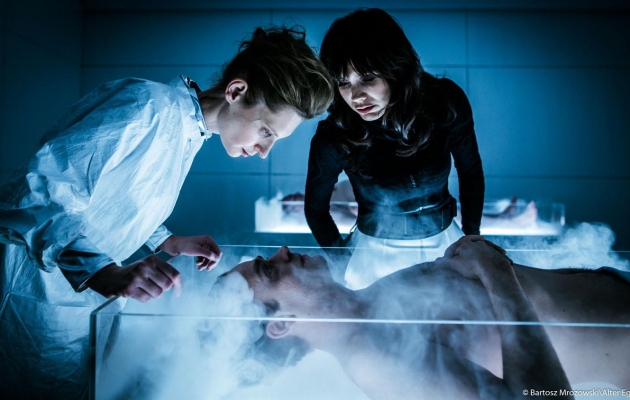 26 October, 18:00 · CKK Jordanki
Warsaw, 2030. It might seem that Adam (Piotr Polak) had his better tomorrow... yesterday. He has memory lapses and must start everything anew. He moves and starts working for a big corporation. While there, he meets attractive Goria (Olga Bołądź) and is completely bewitched by her. The girl initially rejects his advances insisting that Adam is not her type of man. However, when their love affair gains momentum, the boy makes an unprecedented discovery. He finds an old radio set in his new apartment, which seems to broadcast programmes straight from the 1950s. It also becomes clear that the set emits wave frequencies that enable teleportation. During one of such journeys, Adam "gets stuck" in 1952. Worried that her beloved Adam has disappeared, Goria goes on both a fascinating and dangerous mission to bring him back.
| | |
| --- | --- |
| Director: | Bodo Kox |
| Screenplay: | Bodo Kox |
| Music: | Sandro di Stefano |
| Cinematography: | Arkadiusz Tomiak, Dominik Danilczyk |
| Editing: | Milenia Fiedler |
| Cast: | Olga Bołądź, Piotr Polak, Sebastian Stankiewicz, Helena Norowicz, Wojciech Zieliński, Bartłomiej Firlet |
| Producers: | Izabela Igel, Roman Jarosz |
| Production: | Alter Ego Pictures |
| Distribution: | Kino Świat |
| Awards: | FF w Gdyni / Gdynia FF – Oficjalna Selekcja / Official Selection (2017); Warszawski FF / Warsaw FF – Nominacja: Konkurs 1-2 / Nomination: 1-2 Competition (2017) |
Bodo Kox was born in 1977 in Wrocław. He is a Polish happener, director, actor and screenwriter, who has graduated from journalism. He is considered one of the most interesting and original representatives of the Polish independent cinema. He played in many cult films of this genre (including Saturday Night Sore and Nosebleed).
Selected Filmography:
2017 – Człowiek z magicznym pudełkiem / The Man with the Magic Box
2012 – Dziewczyna z szafy / Girl from the Closet