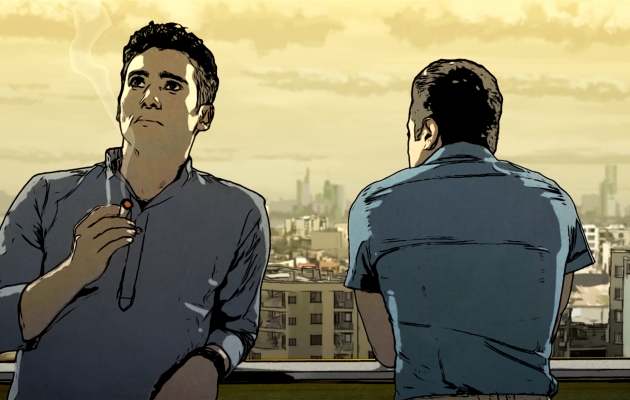 26 October, 21:00 · CKK Jordanki
Tehran is a city full of restrictions and religious laws where any type of crime leads to harsh punishment. Yet, the lust for life in young women and men who seek to live freely has made it an everyday sport to avoid these strict prohibitions. The hypocrisy and contradictions of the system are expressed with tenderness, humour and humanism.
This is what the director himself had to say about the film: "Tehran Taboo is an original screenplay (…). The idea came to me a few years ago when I overheard a conversation between two Iranian young men in the subway who were talking about their experiences with girls. They mentioned a prostitute who brought her child along on the job. This made me think about themes on sexuality in Iran..."
| | |
| --- | --- |
| Director: | Ali Soozandeh |
| Screenplay: | Ali Soozandeh, Grit Kienzlen |
| Music: | Ali N. Askin |
| Cinematography: | Martin Gschlacht |
| Editing: | Frank Geiger, Andrea Mertens |
| Cast: | Elmira Rafizadeh, Zahra Amir Ebrahimi, Arash Marandi, Siir Eloglu, Alireza Bayram |
| Producers: | Ali Samadi Ahadi, Mark Fencer, Frank Geiger, Armin Hofmann |
| Production: | Little Dream Entertainment, ZDF |
| Awards: | FF w Cannes / Cannes FF – Nominacja: Nagroda sekcji Tydzień Krytyków / Nomination: Critics\' Week Grand Prize (2017); FF w Jerozolimie / Jerusalem FF – Nagroda FIPRESCI / FIPRESCI Prize (2017) |
Ali Soozandeh was born in 1970 in Shiraz Iran. He studied Art in Tehran. After emigrating to Germany, he had his diploma at the University of Applied Sciences in Cologne. He founded his own company Cartoonamoon and was involved in many feature and documentary films and TV-series as an animation specialist. He also directed a number of music videos and short films.
Selected Filmography:
2017 – Tehran Taboo
2010 – Die Rückkehr der Wollmäuse (animacja krótkometrażowa / short animation)