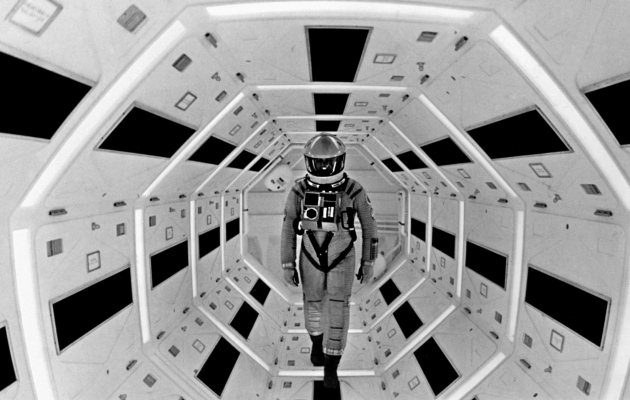 27 October, 19:10 · Cinema City — room 6
The film is comprised of four episodes (The Dawn of Man, TMA-1, Jupiter Mission: Eighteen Months Later, and Jupiter and beyond the Infinite), which are loosely connected with one another with the vision of a mysterious monolith... One of the parts is dedicated to the Discovery spacecraft mission on Jupiter. Among its crew, there are brilliant scientists and astronomers, who have state-of-the-art equipment at their disposal and intend to contribute to the development of science, by analysing the signal transmitted by the monolith. Unfortunately, a serious failure occurs during the space flight. HAL 9000 ― the ship's computer that has never failed before ― now controls all operations of the Discovery spaceship.
2001: A Space Odyssey is a masterpiece of the science-fiction genre. Stanley Kubrick managed to create a one-of-a-kind audio-visual philosophical treatise about the nature of man and their relation with the Universe, this way offering new perspectives for films about scientific themes.
| | |
| --- | --- |
| Director: | Stanley Kubrick |
| Screenplay: | Stanley Kubrick, Arthur C. Clarke |
| Music: | Görgy Ligeti, Aram Chaczaturian, Richard Strauss, Johann Strauss |
| Cinematography: | Geoffrey Unsworth |
| Editing: | Ray Lovejoy |
| Cast: | Keir Dullea, Gary Lockwood, William Sylvester, Daniel Richter, Douglas Rain |
| Producer: | Stanley Kubrick |
| Production: | Metro-Goldwyn-Mayer, Stanley Kubrick Productions |
| Awards: | Oscar / Academy Awards – Najlepsze Efekty Specjalne / Best Visual Effects (1969); BAFTA / BAFTA Awards – Najlepsze Zdjęcia, Najlepsza Scenografia / Best Cinematography, Best Production Design (1969) |
Stanley Kubrick (1928–1999) ― director, producer and screenwriter. He was born in New York, where he graduated from Taft High School in Bronx. Before turning 30, he had already made a documentary, established his own production company and directed three feature films, which gave him the reputation of the most promising American director. In 1961, he left the United States and made England his home, for the rest of his life. In 1968, he made 2001: A Space Odyssey ― probably his greatest creation ever.
Selected Filmography
1999 – Oczy szeroko zamknięte / Eyes Wide Shut
1987 – Full Metal Jacket
1980 – Lśnienie / The Shining
1975 – Barry London
1971 – Mechaniczna pomarańcza / A Clockwork Orange
1968 – 2001 Odyseja kosmiczna / 2001: A Space Oddysey
1962 – Lolita
1957 – Ścieżki chwały / Paths of Glory