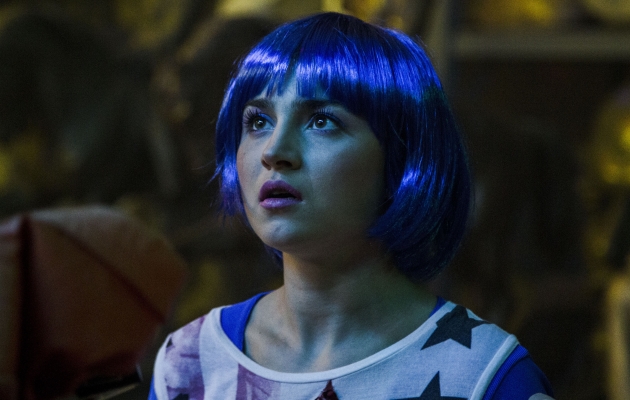 22 October, 21:15 · CKK Jordanki
This vibrant debut feature follows the path of Evelina — young girl from Belarus, who dreams of moving to Chicago in order to pursue her passion for house music. However, obtaining a US visa proves a difficult endeavour and, determined to flee the country, the young woman takes the risk of buying a letter of employment from the black market. Depicting a nation anticipating a brighter future, Crystal Swan is a story about a woman and her country, where feelings of self and belonging are yet to be defined.
| | |
| --- | --- |
| Director: | Darya Zhuk |
| Screenplay: | Helga Landauer |
| Cinematography: | Carolina Costa |
| Editing: | Sergey Dmitrenko, Michał Leszczyłowski |
| Cast: | Alina Nasibullina, Ivan Mulin, Yury Borisov, Svetlana Anikey, Ilya Kapanets |
| Producers: | Birgit Gernböck, Olga Goister, Debbie Vandermeulen, Valery Dmitrotchenko |
| Production: | Turnstyle TV LLC |
| Distribution: | Loco Films |
| Awards: | MFF w Karlowych Warach / Karlovy Vary IFF – Oficjalna Selekcja: sekcja East of West / Official Selection: East of West\' section (2018); MFF w Odessie / Odessa IFF – Grand Prix (2018); Białoruski kandydat do Oscarów w kategorii Najlepszy Film Obcojęzyczny / Belarussian candidate for Academy Awards in the Best Foreign Language Film category (2019) |
Darya Zhuk lived between US and her native Belarus since she was 16. She fell in love with filmmaking while studying Economics at Harvard University. Today she is proud honors graduate of Columbia University MFA program in Directing. Her short films was selected to SXSW, Tarkovsky, Oaxaca, Atlanta, Palm Springs, Koroche, Santa Fe Independent film festivals just to name a few. Crystal Swan, feature debut, opened East of the West competition in Karlovy Vary IFF.
Selected Filmography:
2018 – Crystal Swan
2016 – Like a Dream (doc. short)
2015 – The Real American (short)
2015 – What Doesn't Kill You (short)
2014 – Eat the Tourists (short)