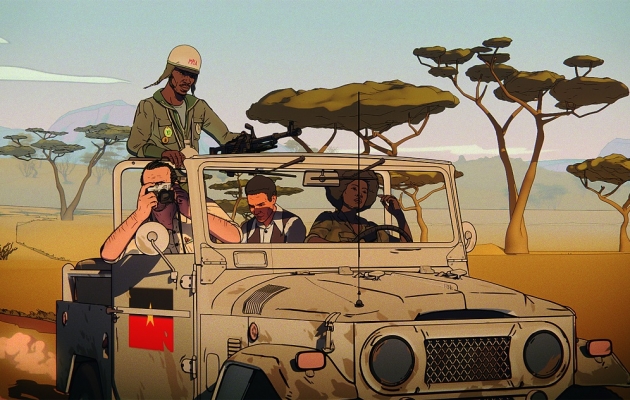 23 October, 17:00 · CKK Jordanki
Another Day of Life is a gripping story about the three-month expedition undertaken by Ryszard Kapuściński, an outstanding reporter, to Angola, engulfed in war and chaos, where the front line was changing by the minute. The book Another Day of Life written by Ryszard Kapuściński inspired this full-length animation, which also includes elements of a documentary. Just as in the literary original, the viewer starts the journey together with the reporter, in 1975, visiting Luanda, the capital city of Angola. Decolonisation after the Carnation Revolution continues. The Portuguese are in hurry to leave the luxurious districts of the city. They fear that the capital may be under attack. Kapuściński establishes himself in the abandoned city and sends messages to the Polish Press Agency every single day. On the eve of declaring its independence, various militant groups fight with each other to seize power in the newly established republic. Kapuściński decides to undertake a perilous journey to the front...
| | |
| --- | --- |
| Director: | Damian Nenow, Raúl de la Fuente |
| Screenplay: | Raúl de la Fuente, Amaia Remírez, Damian Nenow, David Weber, Niall Johnson |
| Music: | Mikel Salas |
| Cinematography: | Raúl de La Fuente, Gorka Gómez Andreu |
| Editing: | Raúl de La Fuente |
| Cast: | Marcin Dorociński, Olga Bołądź, Arkadiusz Jakubik, Tomasz Borkowski |
| Producers: | Jarek Sawko, Amaia Remírez, Raúl de la Fuente, Ole Wendorff-Østergaard |
| Production: | Platige Films, Kanaki Films |
| Distribution: | Next Film |
| Awards: | FF w Gdyni / Gdynia FF – Oficjalna Selekcja: Konkurs Inne Spojrzenie / Official Selection: The "Different Perspective" Competition (2018) |
Damian Nenow (born in 1983, in Bydgoszcz) is a graduate of the Film School in Lodz. He has directed three original short animations: The Aim (2005), The Great Escape (2006), and Paths of Hate (2010). He is also the author of the animated documentary titled City of Ruins (2011) made on commission from the Warsaw Uprising Museum.
Raúl de la Fuente (born in 1974) is a film director, screenwriter, and producer of Spanish origin. Among others, he has made the multi-award winning short film Minerita (2013) and Nömadak Tx (2006), the latter of which has won 17 awards, and was featured in programmes of more than 150 film festivals.
Joint Filmography:
2018 – Jeszcze dzień życia / Another Day of Life