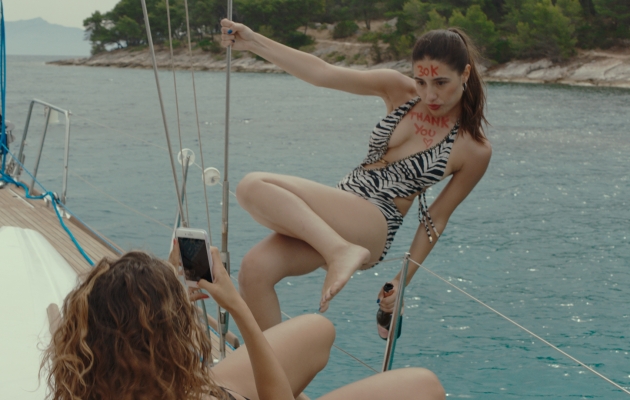 24 October, 15:00 · Cinema City — room 8
Just out of high school, Lavinia, Carla and Danila leave for a yachting holiday. Accompanied only by a skipper, the three of them sail along the Croatian coast at the start of a new stage in their lives. Full of dreams, free and laid-back, they are unaware that sharing everything on the social media is about to transform their holiday into a brutal rite of passage to adulthood in which nothing, especially their friendship, will ever be the same again.
As director put it: "The story of three girlfriends on a holiday at the age that perhaps best represents the risks and opportunities of the use of social media ― just out of high school between their first taste of freedom and adulthood ― was a good way of observing ongoing social transformations in an intimate context, and also reevaluating a moment in my own life that I recall as being decisive."
| | |
| --- | --- |
| Director: | Leonardo Guerra Seràgnoli |
| Screenplay: | Leonardo Guerra Seràgnoli |
| Music: | Alva Noto |
| Cinematography: | Gian Filippo Corticelli |
| Editing: | Alice Roffinengo |
| Cast: | Denise Tantucci, Angela Fontana, Blu Yoshimi, Goran Markovic, Carolina Pavone |
| Producers: | Fabrizio Donvito, Leonardo Guerra Seràgnoli, Nicola Lusuardi, Ines Vasiljevic |
| Production: | Essentia, Nightswim, Indiana Production Company, Antitalent Produkcija |
| Distribution: | Media Luna New Films |
| Awards: | MFF w Locarno / Locarno IFF – Nominacja: Złoty Lampart / Nomination: Golden Leopard |
Leonardo Guerra Seràgnoli is an Italian producer and director. He graduated in Film Scoring at Berklee College of Music in Boston, after he attended the London Film School, subsequently took part in Berlinale Talents in 2015. He has directed several short films, in 2014 he wrote and directed his first full-length feature, Last Summer, which was presented at the Rome Festival in 2014, in which it won three prizes and received positive reviews.
Selected Filmography:
2018 – Likemeback
2014 – Przed rozstaniem / Last Summer
2012 – Tigers (short)
2012 – Ama (short)