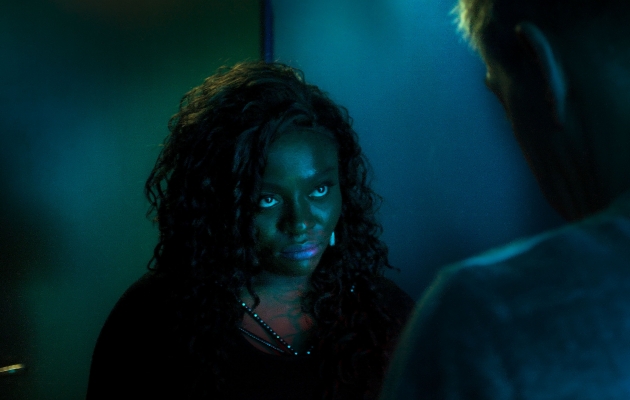 26 October, 15:00 · CKK Jordanki
Joy and Precious are Nigerian women walking the streets in Vienna. Joy is the older and more experienced one, Precious only a teenager and a novice fresh from Nigeria. They both work for Madame, their pimp and exploiter who has paid their journey to Europe and makes them pay off the debts with an iron fist. They live in a cramped flat with a group of other women, all of them Madame's girls. Madame comes every week to collect the money and controls every aspect of their lives. There is a kind of sisterhood in their shared fate and suffering but no real solidarity as every woman is fighting on her own to pay off and finally be free.
| | |
| --- | --- |
| Director: | Sudabeh Mortezai |
| Screenplay: | Sudabeh Mortezai |
| Cinematography: | Klemens Hufnagl |
| Editing: | Oliver Neumann |
| Cast: | Joy Alphonsus, Precious Mariam Sanusi, Angela Ekeleme, Gift Igweh, Sandra John |
| Producers: | Sabine Moser, Oliver Neumann |
| Production: | Freibeuter Film |
| Distribution: | Films Boutique |
| Awards: | FF w Wenecji / Venice FF – Nagroda Hearst Film Award: Najlepsza Reżyserka, Nagroda Label Europa Cinemas / Hearst Film Award: Best Female Director, Label Europa Cinemas / (2018) |
Sudabeh Mortezai was born 1968 in Ludwigsburg, Germany, to Iranian parents, Sudabeh Mortezai grew up in Tehran and Vienna. She received her MA in theater and film studies from the University of Vienna in 1994. After completing UCLA's certificate program in Film, TV, and Digital Entertainment Media in 2003, she worked as an assistant director and production manager. She made her feature debut in 2014 with Macondo.
Filmography:
2018 – Joy
2014 – Macondo
2009 – Małżeństwo na chwilę / In the Bazar of the Sexes (doc.)
2006 – Dzieci proroka / Children of the Prophet (doc.)