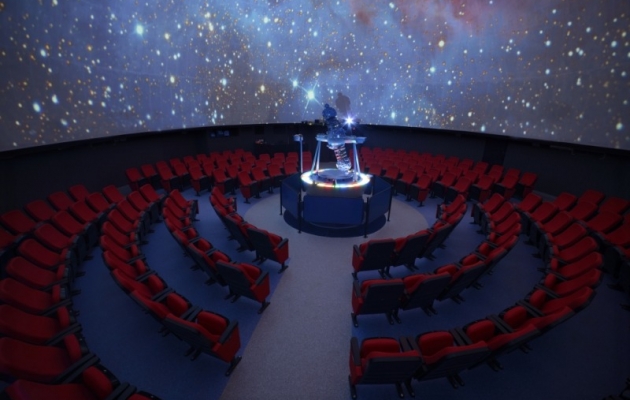 26 October, 19:00 · Planetarium Toruń
Tickets available at the Planetarium
As part of the TOFIFEST festival, you will have a chance to see a spectacular and innovative accompanying event!
The Władysław Dziewulski Planetarium in Toruń will host a presentation of a film about macro-cosmos, which will be screened on a gigantic spherical screen. You will admire images of nebulas, planets, and moons, in the company of cosmic music. This show will have a special musical setting composed specifically for that very occasion, by DJ Funktion, an artist born in Torun, who has had a very successful career for many years and shared stage with the greatest celebrities of the Polish and international music scenes. His technical prowess and musical imagination have been appreciated during numerous competitions for DJs ― he is, among others, a three-time DJ world champion ― he was the winner in 2012, 2013, and 2015, in the "Show" category.
The music he has prepared will be a journey to the world of science fiction cinema. It will feature works from such films as Interstellar by Christopher Nolan, Star Wars by George Lucas, and, obviously, fragments taken from 2001: A Space Odyssey by Stanley Kubrick. All compositions have been prepared in the 5.1 Dolby Surround format, and the whole event is a sort of playing with the convention.
This unique 30-minute screening takes place on 26th October 2018, at 7.00 p.m., at the Planetarium in Toruń, which is one of the co-organisers of the event.
Tickets: 8 PLN ― available for purchase starting 20th October, at the box office in the Władysław Dziewulski Planetarium in Toruń. The box office in the Planetarium is open on the following days:

Monday: 9.30 a.m. – 2.30 p.m.
Tuesday–Friday: 8.30 a.m. – 3.00 p.m.
Saturday: 10.15 a.m. – 6.00 p.m.
Sunday: 10.15 a.m. – 4.30 p.m.

Telephone number to the box office: 56 622 60 66