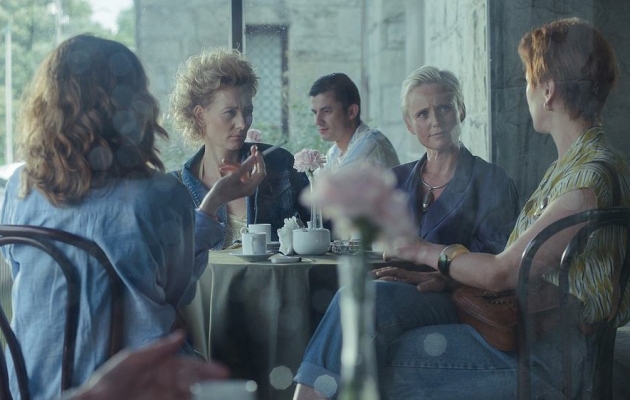 22 October, 19:30 · Cinema City — room 6
Anna and Witek, a young married couple, are very much in love. He is a war correspondent, who spends the better part of the year at the heart of raging conflicts. She spends her days waiting for him to come home. Anka is trying to have a normal life, but her fear for Witek's life prevails. She begins preparing herself for the worst...
According to the director's own words, "53 Wars is a story about the power of survival at all costs, in the reality of modern war."
| | |
| --- | --- |
| Director: | Ewa Bukowska |
| Screenplay: | Ewa Bukowska |
| Music: | Natalia Fiedorczuk-Cieślak |
| Cinematography: | Tomasz Naumiuk |
| Editing: | Agnieszka Glińska |
| Cast: | Magdalena Popławska, Michał Żurawski, Kinga Preis, Dorota Kolak, Krzysztof Stroiński |
| Producers: | Jacek Bromski, Jerzy Kapuściński, Ewa Jastrzębska |
| Production: | Studio Munka ― Stowarzyszenie Filmowców Polskich |
| Distribution: | Next Film |
| Awards: | MFF w Karlowych Warach / Karlovy Vary IFF – Oficjalna Selekcja / Official Selection (2018); Festiwal Debiutów Filmowych "Młodzi i Film" w Koszalinie / "The Young and Cinema" Koszalin Debut FF – Jantar: Najlepsza Główna Rola Kobieca / Best Leading Female Character (2018) |
Ewa Bukowska was born in 1966. She has graduated from the AST National Academy of Theatre Arts in Krakow. She has performed in numerous films, TV productions, and commercials, both in Poland and abroad. She is also a screenwriter, producer, and author of TV programmes. For a couple of years, she worked for two famous production studios, i.e. Studio A and Prasa i Film, as a screenwriter (for example for Miodowe lata TV series), screenplay critic, and producer. In 2013, she made her début with a short film based on her own script, under the title Return.
Filmography:
2017 – 53 wojny / 53 Wars
2013 – Powrót / Return (short)