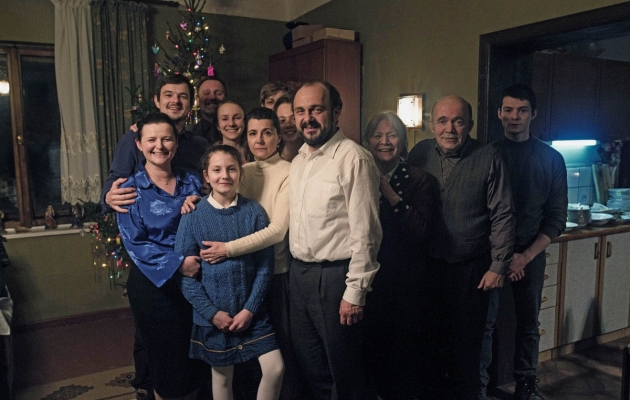 21 October, 15:00 · Cinema City — room 8
Adam (Dawid Ogrodnik), who has been working abroad for quite some time, comes to his family home in the country, on Christmas Eve. Initially, he keeps the true reason for his visit in secret, but soon starts letting his relatives in on his true intent. Special roles in the scheme are to be played by his father (Arkadiusz Jakubik), his brother (Tomasz Ziętek), with whom Adam is in conflict, and his sister (Maria Dębska) with her husband (Tomasz Schuchardt). The whole situation becomes even more complex, when the Christmas visitor announces that will soon become father. This is the moment for alcohol to appear on the table, which is a Polish tradition. Not a single person in the family is aware of the impact that the successive events taking place that night of Christmas Eve will have on their lives.
| | |
| --- | --- |
| Director: | Piotr Domalewski |
| Screenplay: | Piotr Domalewski |
| Music: | Wacław Zimpel |
| Cinematography: | Piotr Sobociński Jr. |
| Editing: | Leszek Starzyński |
| Cast: | Dawid Ogrodnik, Tomasz Ziętek, Agnieszka Suchora, Arkadiusz Jakubik, Maria Dębska, Tomasz Schuchardt |
| Producers: | Jacek Bromski, Jerzy Kapuściński, Ewa Jastrzębska |
| Production: | Stowarzyszenie Filmowców Polskich, Studio Munka |
| Distribution: | Forum Film Poland |
| Awards: | FF w Gdyni / Gdynia FF – Złote Lwy: Najlepszy Film, Najlepsza Rola Męska, Nagroda Dziennikarzy, Don Kichot / Golden Lions: Best Film, Best Actor, Journalists' Award, Don Quixote Award (2017); Orły / Polish Film Awards: Eagles – Najlepszy Film, Najlepszy Scenariusz, Najlepsza Reżyseria, Najlepsze Zdjęcia, Najlepsza Główna Rola Męska, Najlepsza Drugoplanowa Rola Męska, Najlepsza Drugoplanowa Rola Kobieca / Best Film, Best Script, Best Directing, Best Cinematography, Best Leading Actor, Best Supporting Actor, Best Supporting Actress (2018) |
Piotr Domalewski was born in 1983, in Łomża. He is an actor and director. He has graduated from the Aleksander Zelwerowicz National Academy of Dramatic Art in Warsaw (Faculty in Bialystok, where he received the diploma of a puppeteer, in 2006), the Faculty of Acting at the AST National Academy of Theatre Arts in Krakow (2009), and the School of Directing at the Krzysztof Kieslowski Faculty of Radio and Television (2016). Since 2010, he has made between ten and twenty film-school exercises and short films. Silent Night is his feature début.
Selected Filmography:
2017 – Cicha noc / Silent Night
2017 – 60 kilo niczego (short)
2016 – Złe uczynki (short)