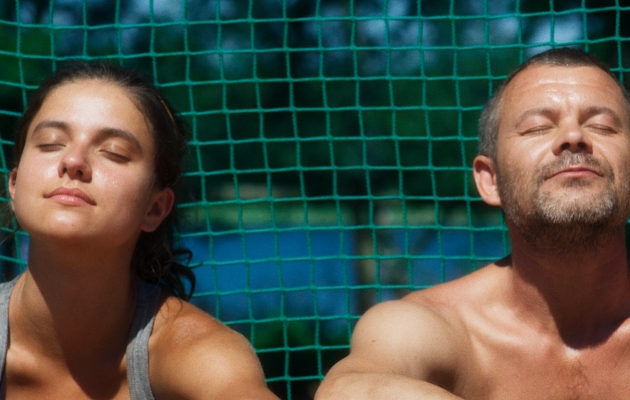 22 October, 16:45 · Cinema City — room 6
It is a very hot summer. Maciej Kornet (Jacek Braciak) is travelling all around Poland with Wiktoria (Karolina Bruchnicka), his 17-year-old daughter. Their journey takes them from one tennis competition to another. The girl is Daddy's little girl, the apple of his eye, and source of great pride. He would love her to be the best. He means the world to her. For many years, it has only been the two of them, always together. Now, it all will change, when they are joined by Igor (Bartłomiej Kowalski), a promising new player, who has just come under the wings of Maciej Kornet. The new boy helps Wiktoria open to new experiences: the first cigarette, the first cup of alcohol, the first love... All three take a rickety old van to go on a long journey, during which every single one of them will try to reach their individual goals.
A Coach's Daughter is a story about looking for one's own path in life, full of discreet sense of humour.
| | |
| --- | --- |
| Director: | Łukasz Grzegorzek |
| Screenplay: | Krzysztof Umiński, Łukasz Grzegorzek |
| Music: | Błażej Kafarski |
| Cinematography: | Weronika Bilska |
| Editing: | Maria Zuba |
| Cast: | Jacek Braciak, Karolina Bruchnicka, Agata Buzek, Piotr Żurawski, Bartłomiej Kowalski |
| Producer: | Natalia Grzegorzek |
| Production: | Koskino |
| Distribution: | Akson Dystrybucja |
Łukasz Grzegorzek was born in 1980. He graduated in law from the University of Warsaw. He has won several gold medals in Polish Tennis Championships. For the last ten years he has been making television trailers for movies, blockbusters and arthouse classics ― this is how he gained all his knowledge about movie directing. Kamper was his feature debut.
Filmography:
2018 – Córka trenera / A Coach's Daughter
2016 – Kamper