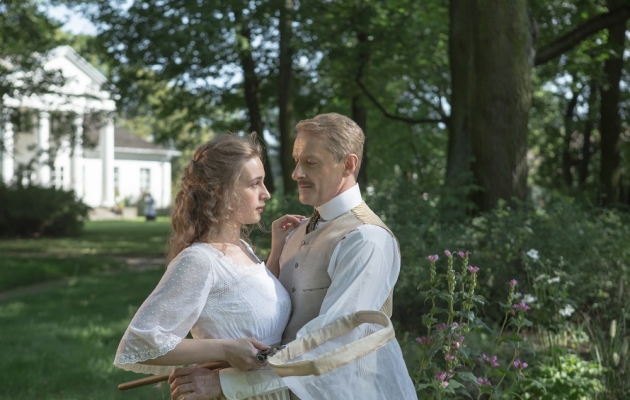 24 October, 16:45 · Cinema City — room 8
It is the beginning of the 20th century in Podolia. The local physician (Jacek Poniedziałek) has a passion for studying ether, which is a substance that relieves pain and makes one lose their consciousness, which is both mysterious and lethally dangerous. When a young girl falls victim to its power, the physician is sentenced to death. He manages to escape the hangman's noose. He finds a job in the area of Poland under Austrian rule, in a military fortress controlled by a commanding officer (Andrzej Chyra). In addition to his official practice, the physician returns to his experiments conducted on his own, both on the living and the dead — these experiments are becoming weirder and weirder. He is obsessively trying to broaden his knowledge about ether to control and manipulate the pain, desire, and will of those affected by it. What price will the physician pay for attempting to control the human mind?
| | |
| --- | --- |
| Director: | Krzysztof Zanussi |
| Screenplay: | Krzysztof Zanussi |
| Cinematography: | Piotr Niemyjski |
| Editing: | Milenia Fiedler |
| Cast: | Jacek Poniedziałek, Andrzej Chyra, Zsolt László, Ostap Vakuliuk, Maria Riaboshapka |
| Producers: | Krzysztof Zanussi, Janusz Wąchała |
| Production: | Studio Filmowe Tor |
| Distribution: | Next Film |
| Awards: | FF w Gdyni / Gdynia FF – Oficjalna Selekcja / Official Selection (2018) |
Krzysztof Zanussi was born in 1939, in Warsaw. He studied physics at the University of Warsaw, and philosophy at the Jagiellonian University. In 1967, he graduated from the Film and TV Direction Department of the Film School in Lodz. He is considered one of the most famous and award-winning filmmakers, who won the Golden Lion in Venice, in 1984, among many other awards.
Selected Filmography:
2018 – Eter
2007 – Czarne słońce / Black Sun
2005 – Persona non grata
2000 – Życie jako śmiertelna choroba przenoszona drogą płciową / Life As a Fatal Sexually Transmitted Disease
1995 – Cwał / In Full Gallop
1984 – Rok spokojnego słońca / The Year of the Quiet Sun
1976 – Barwy ochronne / Camouflage