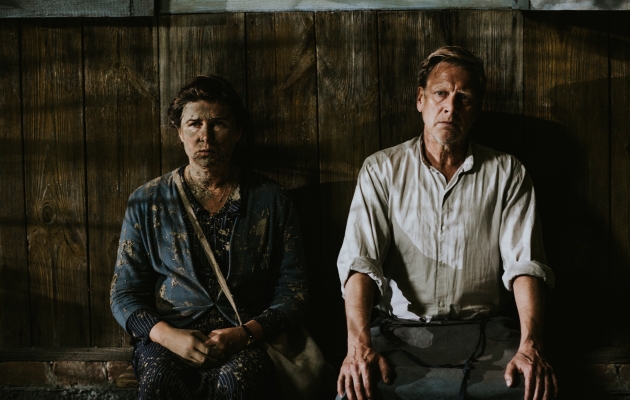 24 October, 19:00 · Cinema City — room 6
Pardon is a story set in the post-war reality of Poland. It portrays parents undergoing a difficult period of mourning, who set on the very last journey with their son. The story is told from the perspective of Jan, their grandson. In the autumn of 1946, Urząd Bezpieczeństwa (Secret Political Police) kills Wacław "Odrowąż" Szewczyk, a former soldier of the Polish Home Army (AK), son of Hanna and Jakub. After suffering a string of humiliations from the new political authorities, who have desecrated the body of their son, Hanna and Jakub decide to bury him in the proper manner, in the town of Kalwaria Pacławska, 500 kilometers away. The journey of the parents through Poland, still plunged in the nightmarish post-war reality, becomes a metaphorical journey deep into a human soul, and an attempt to redefine humanity in a world, where neighbours turn against each other, and one's former enemies are now their allies, all of a sudden.
| | |
| --- | --- |
| Director: | Jan Jakub Kolski |
| Screenplay: | Jan Jakub Kolski |
| Music: | Dariusz Górniok |
| Cinematography: | Julian A. Ch. Kernbach |
| Editing: | Konrad Śniady |
| Cast: | Grażyna Błęcka-Kolska, Jan Jankowski, Michał Kaleta, Krzysztof Globisz |
| Producers: | an Jakub Kolski, Agnieszka Janowska, Paweł Kosuń, Aleksandra Michael |
| Production: | Wytwórnia Doświadczalna |
| Awards: | FF w Gdynia / Gdynia FF – Najlepszy Scenariusz, Najlepsza Pierwszoplanowa Rola Kobieca, Najlepsze Kostiumy / Best Screenplay, Best Actress in a Leading Role, Best Costumes (2018) |
Jan Jakub Kolski was born in 1956, in Wrocław. He is a director, screenwriter, operator, and one of the most interesting filmmakers in Poland. His portfolio includes between ten and twenty feature films. In 1985, Kolski graduated from the Faculty of Cinematography at the Lodz Film School. He started his film career from making short films. In 1993, he gained a nationwide popularity with Johnnie Aquarius aka Johnnie Waterman, which won him Paszport Polityki (Polityka's Passport), in 1994.
Selected Filmography:
2018 – Ułaskawienie / Pardon
2014 – Serce, serduszko
2012 – Zabić bobra / To Kill a Beaver
2010 – Wenecja
2008 – Afonia i pszczoły / Happy Aphonya
2006 – Jasminum
2000 – Daleko od okna / Far from the Window
1995 – Cudowne miejsce / Miraculous Place