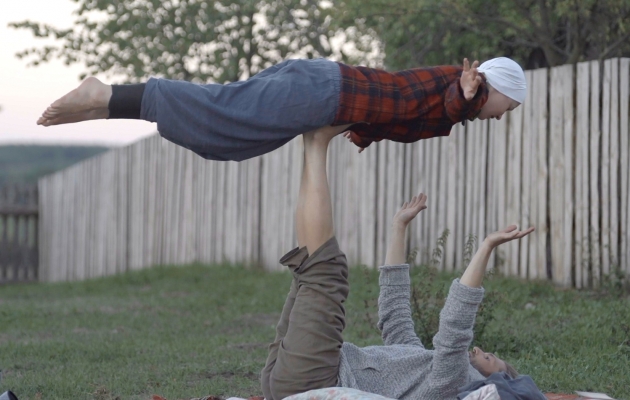 21 October, 17:00 · Cinema City — room 8
A group of eco-conscious young Berliners following an alternative lifestyle head east to visit the Biebrza National Park, as part of their holiday trip. They make a longer stay in a beautiful small village in the region of Podlasie, where they rent an old wooden house from Stanisław, a local farmer. They walk, photograph landscape and wildlife, meditate, practice AcroYoga, learn about wild mushrooms, pray to the full moon, show compassion for farm animals, bathe naked at the well, and eat vegetables found in a dustbin near a local grocery shop. To local villagers, they seem more exotic than any other celebrities they have seen on TV. Is this possible that neo-hippies and local communities to find a common language, despite communication barriers and such a vast cultural gap. Documentary.
| | |
| --- | --- |
| Director: | Katarzyna Trzaska |
| Screenplay: | Katarzyna Trzaska |
| Music: | Bartłomiej Pałyga |
| Cinematography: | Andrzej Wojciechowski |
| Editing: | Marek Kucharski |
| Producers: | Robert Zygmuntowski, Katarzyna Trzaska, Marek Żydowicz, Monika Braid |
| Production: | ZygiZaga Films, Telewizja Polska, Fundacja Tumult, Braidmade Films |
| Distribution: | Solopan |
Katarzyna Trzaska is a film director and screenwriter, and a graduate of the School of Directing at the Krzysztof Kieslowski Faculty of Radio and Television in Katowice. She has made such documentaries as 10 Years to Nashville (2009) and Maximum Pleasure (2013). She is a member of the Polish Filmmakers Association (SFP) and a co-founder of the Polish Female Filmmakers Association. She lives in Warsaw.
Selected Filmography:
2017 – Wieś pływających krów / The Village of Swimming Cows (doc.)
2016 – Humani (tv)
2014 – Maksimum przyjemności (doc.)
2010 – 10 lat do Nashville (doc.)