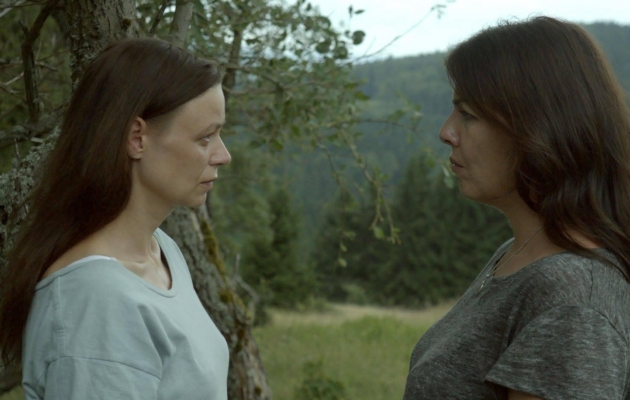 26 October, 16:45 · Cinema City — room 8
A few days before the ceremony of First Communion, Mula (Anna Krotoska), Michał (Rafał Cieluch), and their small daughter Nina, have a strange visitor. It is Kaja (Małgorzata Szczerbowska), Mula's younger sister and biological mother of Nina, who has not contacted the family for many years. To the family, her behaviour is becoming more and more suspicious. As if that was not enough, a series of strange events takes place, which nobody can explain. The church ceremony is at hand, while the atmosphere between the sisters is becoming tense. Will Kaja try to win her daughter back? There is a different, more important reason for Kaja to return, as we will soon find out...
| | |
| --- | --- |
| Director: | Jagoda Szelc |
| Screenplay: | Jagoda Szelc |
| Music: | Teoniki Rożynek |
| Cinematography: | Przemysław Brynkiewicz |
| Editing: | Anna Garncarczyk |
| Cast: | Anna Krotoska, Rafał Cieluch, Małgorzata Szczerbowska, Anna Zubrzycki, Dorota Łukasiewicz |
| Producer: | Marcin Malatyński |
| Production: | Studio Filmowe Indeks |
| Distribution: | Against Gravity |
| Awards: | FF w Gdyni / Gdynia FF – Złote Lwy: Najlepszy Scenariusz, Najlepszy Debiut Reżyserski / Golden Lions: Best Script, Best Directing Debut (2017); Festiwal Debiutów Filmowych "Młodzi i Film" w Koszalinie / "The Young and Cinema" Koszalin Debut Film Festival – Jantar: Najlepszy Scenariusz / Grand Prix Award: Best Script (2018) |
Jagoda Szelc was born in Wroclaw, in 1984. She is a film director and screenwriter. In 2007, she graduated from the Faculty of Graphics and Media Art at the Eugeniusz Geppert Academy of Art and Design in Wrocław, and in 2016, from the Film and TV Direction Department at the Film School in Lodz (she received her diploma in 2018). Since 2010, she has directed a couple of short films and documentaries. In 2018, she received Paszport Polityki (Polityka's Passport) for her feature début titled Tower. A Bright Day.
Selected Filmography:
2018 – Monument
2017 – Wieża. Jasny dzień / Tower. A Bright Day
2015 – Spacer (short)