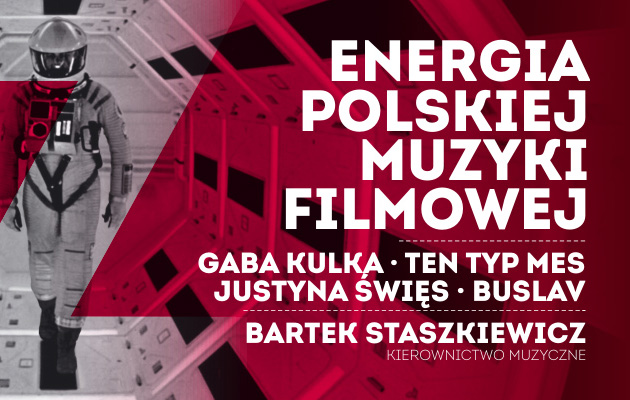 27 October, 19:00 · CKK Jordanki
The Energy of Polish Film Music concert will close this year's edition of the TOFIFEST International Film Festival. It will feature performances by Gaba Kulka, Ten Typ Mes, Justyna Swies, and Buslav. The artists will present re-interpretations of the evergreens which Polish filmmakers have always been so fond of, under the creative direction of Bartek Staszkiewicz, who has rearranged the songs for this particular occasion.
Authors of soundtracks have frequently used music hits to fit them in film contexts. During the concert, you are going to listen to the following songs: Kocham Wolność (I Love Freedom) by Chłopcy z Placu Broni, written in 1990, which was back then a great protest song of the Polish people, and later found its rightful place in Walesa. Man of Hope by Andrzej Wajda; Chłopcy (Boys) by Myslovitz, which resounded in It's Us by Waldemar Szarek, or Odchodząc (Leaving) by Republika, featured in My Angelica by Stanisław Kuźnik ― it was one of the songs recorded for the last record released by the band, before the untimely death of its leader, Grzegorz Ciechowski.
The concert is also intended to become a sentimental journey in time. Some of the songs which we first heard on the silver screen or on TV are now considered to be timeless music hits, for what other name can we give to Już nie zapomnisz mnie (You Won't Forget Me) from the film Forgotten Melody, Motylem jestem (I Am a Butterfly) from the cult TV series Czterdziestolatek (A Forty–Year–Old), or the soundtrack to Akademia Pana Kleksa (Mister Blot's Academy) by Krzysztof Gradowski? The closing ceremony of the TOFIFEST International Film Festival will surely let us rediscover various music motifs from Polish films, performed by unique artists invited to participate in the project.
When: 27th October, at 7.00 p.m.
APATOR S.A. IS THE EXCLUSIVE PARTNER OF THE "ENERGY OF FILM MUSIC" SECTION