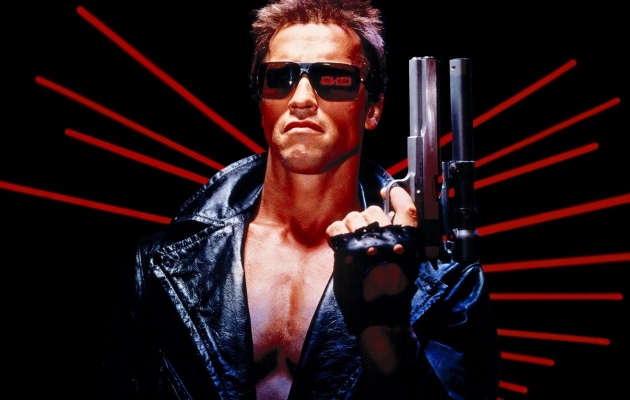 25 October, 17:15 · Cinema City — room 6
In 2029, the Earth is controlled by supercomputers and their only goal is to eradicate the entire human kind. To this end, they send an indestructible cyborg, the Terminator (Arnold Schwarzenegger), to the future, with a mission of finding and killing Sarah Connor (Linda Hamilton). The woman will one day give birth to a son, who is destined to become the leader of human resistance and the only hope for the survival of mankind. Will Sarah protect herself against the coming danger to save the life of her son?
| | |
| --- | --- |
| Director: | James Cameron |
| Screenplay: | James Cameron, Gale Anne Hurd |
| Music: | Brad Fiedel |
| Cinematography: | Adam Greenberg |
| Editing: | Mark Goldblatt |
| Cast: | Arnold Schwarzenegger, Linda Hamilton, Michael Biehn, Paul Winfield, Lance Henriksen |
| Producer: | Gale Anne Hurd |
| Production: | Hemdale, Pacific Western, Euro Film Funding |
| Awards: | Saturny / Saturn Awards – Najlepszy Film Sci-Fi, Najlepszy Scenariusz, Najlepsza Charakteryzacja / Best Science Fiction Film, Best Writing, Best Make-up (1984) |
James Cameron was born in Kapuskasing (Canada) in 1954. From the moment Stanley Kubrick's 2001: A Space Odyssey was introduced to the eyes of the young James Cameron, he hasn't been able to keep his mind off of filmmaking. The Hollywood filmmaker has written, directed and produced many successful feature films, including Terminator, Titanic, and Aliens.
Selected Filmography:
2009 – Avatar
1997 – Titanic
1994 – Prawdziwe kłamstwa / True Lies

1991 – Terminator 2: Dzień sądu / Terminator 2: Judgment Day
1986 – Obcy — decydujące starcie / Aliens
1984 – Terminator / The Terminator