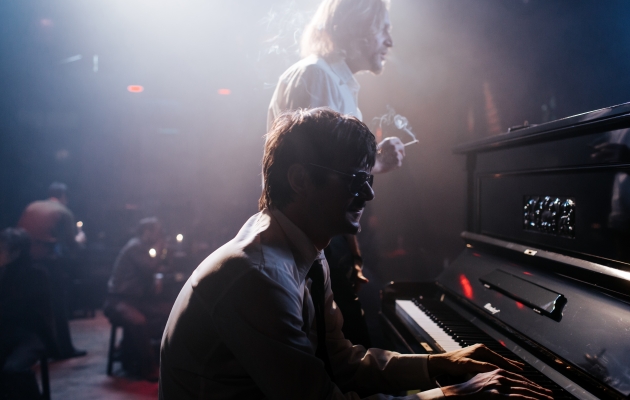 24 October, 15:00 · Cinema City — room 6
Icarus. The Legend of Mietek Kosz is a story dedicated to a blind piano master, inspired by true events. Mietek lost his sight, when he was still a child. His mother takes him to the Educational Centre in Laski, where nuns take care of him. While at the care centre for the blind, the boy discovers that music could become a platform through which he could see and talk about the world anew. Mietek becomes a phenomenal classical pianist, but once he has discovered jazz, there is but one goal for him ― to become the best jazz piano player in Poland. He is more and more successful not only in Poland, but also in other countries. He triumphs at the prestigious Montreaux Jazz Festival. Quite unexpectedly, a charismatic singer Zuza comes into the picture of his life. This encounter changes everything.
| | |
| --- | --- |
| Director: | Maciej Pieprzyca |
| Screenplay: | Maciej Pieprzyca |
| Music: | Leszek Możdżer |
| Cinematography: | Witold Płóciennik |
| Editing: | Piotr Kmiecik |
| Cast: | Dawid Ogrodnik, Cyprian Grabowski, Piotr Adamczyk, Mikołaj Chroboczek, Justyna Wasilewska, Jowita Budnik, Maja Komorowska |
| Producers: | Renata Czarnkowska-Listoś, Maria Gołoś |
| Production: | RE Studio |
| Distribution: | Next Film |
| Awards: | FF w Gdyni / Gdynia FF – Srebrne Lwy, Najlepsze Zdjęcia, Najlepsza Główna Rola Męska, Najlepsza Muzyka, Najlepsza Charakteryzacja, Najlepsze Kostiumy / Silver Lions, Best Cinematography, Best Actor in a Leading Role, Best Music, Best Make-Up, Best Costume Design (2019) |
Maciej Pieprzyca was born in Katowice, in 1964. He is a screenwriter and film director. In 1989, he graduated from journalism at the University of Silesia; in 1990, from studies in screenwriting at the Film School in Lodz, and from the faculty of directing at Krzysztof Kieślowski Radio and Television Faculty of the University of Silesia in Katowice, in 1995. He is the author of award-winning documentaries and features films.
Selected filmography:
2019 – Ikar. Legenda Mietka Kosza / Icarus. The Legend of Mietek Kosz
2016 – Jestem mordercą / I'm a Killer
2013 – Chce się żyć / Life Feels Good

2008 – Drzazgi / Splinters

2001 – Pokolenie 2000

1995 – Przez nokaut