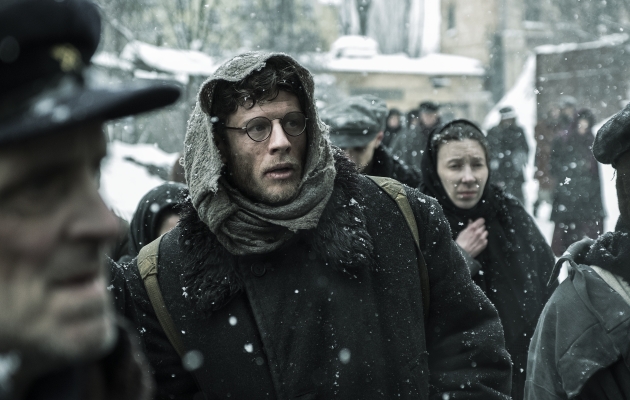 26 October, 15:00 · CKK Jordanki
Gareth Jones is a young journalist, who became famous by publishing an article about his meeting with Adolf Hitler, which happened directly after his coming to power, in 1933. Now, this ambitious man from Wales is preparing to take on another big topic ― this time, it will be the rapid modernisation taking place in the Soviet Union. In an effort to analyse the phenomenon in detail, the reporter travels to Moscow to have an interview with Joseph Stalin. While there, he meets Ada Brooks, a young journalist working for Walter Duranty. With her help, Gareth Jones discovers that the truth about the regime in the country is vehemently suppressed by Soviet censorship. Upon hearing the alarming rumours about the great famine in the USSR, Jones undertakes a lone journey through Ukraine. There, the journalist witnesses the tragedy of Holodomor first-hand. After returning to London, Jones writes an article, in which he gives a detailed account of the horrors experienced in Ukraine. Although there are attempts to lessen the impact of the article and Gareth himself receives threats, he does not stop fighting for the truth. The journalist decides to share his knowledge with George Orwell, a young and aspiring writer.
| | |
| --- | --- |
| Director: | Agnieszka Holland |
| Screenplay: | Andrea Chalupa |
| Music: | Antoni Komasa-Łazarkiewicz |
| Cinematography: | Tomasz Naumiuk |
| Editing: | Michał Czarnecki |
| Cast: | James Norton, Vanessa Kirby, Peter Sarsgaard, Joseph Mawle, Kenneth Cranham, Celyn Jones, Krzysztof Pieczyński |
| Producers: | Stanisław Dziedzic, Andrea Chalupa, Klaudia Śmieja-Rostworowska |
| Production: | Film Produkcja, Parkhurst |
| Distribution: | Kino Świat |
| Awards: | FF w Gdyni / Gdynia FF – Złote Lwy: Najlepszy Film, Najlepsza Scenografia, Złoty Kangur, / Golden Lions: Best Film, Best Art Direction, Golden Kangaroo (2019) |
Agnieszka Holland is a film and theatre director, a screenwriter, and one of the most recognisable figures of Polish cinema. She has lived and worked in Western Europe and the USA, since 1981. She has received numerous awards for her film work, and also received the Medal for Merit to Culture ― Gloria Artis in 2008.
Selected filmography:
2019 – Obywatel Jones / Mr. Jones
2017 – Pokot / Spoor
2011 – W ciemności / In Darkness

2009 – Janosik. Prawdziwa historia / True Story of Janosik and Uhorcik

2002 – Julia wraca do domu

1990 – Europa, Europa
1980 – Gorączka

1978 – Aktorzy prowincjonalni