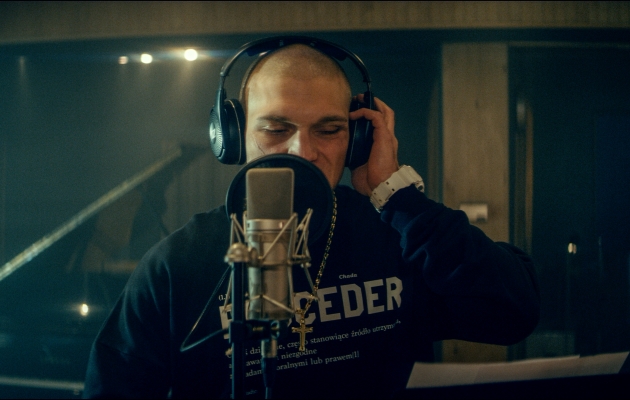 24 October, 15:00 · CKK Jordanki
Proceder is a touching story of rapper Tomasz Chada (1978–2018), a boy originating from bleak apartment buildings, who had the soul of a poet and a true gift of getting into serious trouble. Chada, who was true and brutally honest in his lyrics, died in unclear circumstances, leaving behind his shock-stricken fans and a girl he loved. Music was the essence of his life, both his passion and a world to which he escaped, when the reality around him did not have much to offer.
| | |
| --- | --- |
| Director: | Michał Węgrzyn |
| Screenplay: | Maciej Chwedo, Aleksandra Górecka, Michał Kalicki, Krzysztof Tyszowiecki |
| Music: | RX Rafał Sielawa |
| Editing: | Bartosz Karczyński |
| Cast: | Małgorzata Kożuchowska, Piotr Witkowski, Anna Matysiak, Agnieszka Więdłocha, Antoni Pawlicki, Marcin Gutkowski, Ewa Ziętek, Jan Frycz |
| Producers: | Janusz Iwanowski, Jolanta Owczarczyk |
| Production: | Global Studio |
| Distribution: | Mówi Serwis |
| Awards: | FF w Gdyni / Gdynia FF – nominacja: Złote Lwy / nomination: Golden Lions (2019) |
Michał Węgrzyn was born in 1978, in Nowy Sącz. He graduated from film studies at the Jagiellonian University in Kraków and from the Department of Photography & Television Production at the Lodz Film School. He made his début with a short documentary titled Zaszumiał, powiał (2003) ― the film won many awards at film festivals in Poland. His directing début in the realm of full-feature films was Wybraniec (2013), a story about in vitro. In 2015, he completed his sophomore feature film — The Story of a Woman.
Selected Filmography:
2019 – Proceder
2017 – Wściekłość / Rage

2015 – Historia kobiety / The Story of a Woman

2013 – Wybraniec

2010 – 400 hektarów (short)
2003 – Zaszumiał, powiał (short)