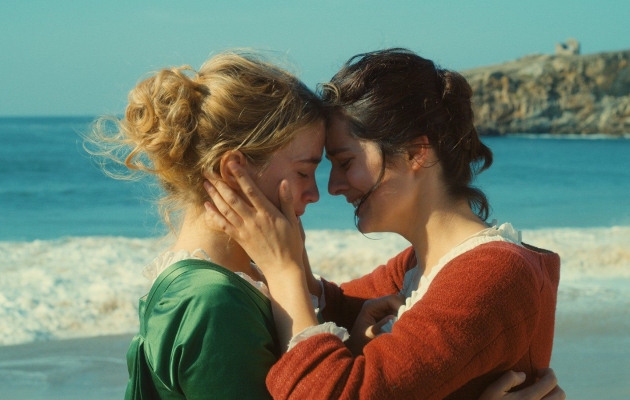 24 October, 17:00 · Cinema City — room 8
Portrait of a Lady on Fire is a story about a love affair happening ahead of its time, and about an intimate bond capable of breaking many taboos, where desires and feelings tailored for contemporary times are dressed in a historic costume.
The film takes place in Brittany, in 1770. The protagonists in the film are Héloïse, an aristocrat preparing for an arranged marriage, and Marianne, a painter from Paris. Marianne is hired to paint a portrait of the bride-to-be, but in secret: Héloïse refuses to pose for the portrait considering it to be her rebellion against the forced marriage. Marianne discreetly watches her model and paints hours on end, but each successive version of the painting gets destroyed. Marianne realises that it will be impossible to get to know the true Héloïse, unless she opens to her.
---
DKKF "Szpulka": film screening and discussion
"Szpulka" Women's Film Discussion Club would like to invite you for a screening of a film dedicated to women. This time, it will be Portrait of a Lady on Fire, a film set in the 18th–century France and portraying a very unique relationship between two women: a painter and her model.
Guest appearance at the debate: Marcin Jaranowski — a philosopher and ethician, and an academic teacher at the Nicolaus Copernicus University in Toruń
The meeting will be conducted by: Marta Siwicka and Natalia Waloch
"Szpulka" Women's Film Discussion Club is a common initiative of the feminist group Toruńskie Dziewuchy, Fundacja "Nieograniczona" im. Bogny Olszewskiej (Bogna Olszewska Foundation), and the Arthus House Centre of Culture.
| | |
| --- | --- |
| Director: | Céline Sciamma |
| Screenplay: | Céline Sciamma |
| Music: | Jean-Baptiste de Laubier, Arthur Simonini |
| Cinematography: | Claire Mathon |
| Editing: | Julien Lacheray |
| Cast: | Noémie Merlant, Adèle Haenel, Luàna Bajrami, Valeria Golino, Cécile Morel |
| Producers: | Véronique Cayla, Bénédicte Couvreur |
| Production: | Lilies Films |
| Distribution: | Gutek Film |
| Awards: | FF w Cannes / Cannes FF – Najlepszy Scenariusz, Palma "Queer" / Best Screenplay, Queer Palm (2019) |